The Flexer is an App-Controlled G-Spot, Clitoral stimulator, Panty vibrator?… What more could you want?
I was on my way home when I received the email announcing a new product launch. The Lovense Flexer. I could instantly feel myself getting wet just with the thought of a new release from Lovense. I'm a huge fan of their remote control vibrators, and was very excited to find out what they had released.
Lovense Flexer Review
Experience Orgasmic Pleasure as you Climax with the Flexer Teledildonic Sex Toy
A vibrator that curls up inside your vagina and hits the G-Spot to offer you a mind-blowing orgasm. A unique design paired with a powerful motor works effortlessly to give you a heavenly feeling and in no time, you find yourself on cloud nine. Yes, the all-new Lovense Flexer is here to make your intimate sessions more intense.
Lovense has come up with this amazing idea of a fingering vibrator and the sound of it makes us excited. Who doesn't like to experience Come-hither moves & G-Spot vibes and Clitoral vibrations, all at once? The sex toy makes a perfect movement; gently massaging your G-spot and stimulating the clitoris until you hit an ultimate climax.
So, should you be buying this new product? How does it work differently? Does the Lovense app make it easier to use Lovense Flexer?
The short answer is: Yes, the Flexer is a great buy… but probably not so much if if you are interested in public play. For that, I recommend the Lush 3 from Lovense.
All your questions are answered in this post as we decode everything about the new Lovense Flexer- the so-called wearable fingering vibrator.
Buy From Lovense
What is included with the Lovense Flexer?
The pack includes a Lovense Flexer, along with a proprietary charging cable which comes beautifully packed in a black drawstring pouch making it easy and aesthetically appealing to hold or store.
Is The Lovense Flexer Good For Public Play?
If you are planning to use it out in public, I will warn you against it. The noise is noticeable and I would not be comfortable using this in a place that wasn't loud. Marketed as a wearable panty vibrator, the Lovense Flexer fails to stay in your panties. You need to hold it or sit on top of it to make it work right.
The Lovense Flexer did not leave me too disappointed. It has great potential if you want an intimate fingering session in your bedroom. I would be too anxious to take it out in public.
Buy From Lovense
Lovense Flexer vs Lush 3
The Lovense Lush 3 is considered the most powerful Bluetooth remote control vibrator and an excellent replacement for Lovense Flexer.
Lovense Lush 3 has a high-intensity motor function that starts with a rumble and ends with a buzzy vibration. It is not very noisy and the sound can be anywhere around 40 dB when inserted. It is a vaginal wear device which means you do not have to constantly hold it in your hands or sit on top of it.
Now, about Lovense Flexer- It is affordably priced, comes with a powerful motor, does not rumble but buzzes flawlessly, and is noisy- 48 dB when inserted and 63 dB when used superficially.
Personally, I prefer the Lush 3 over the Flexer, especially if you are looking to have some fun playing with a sex toy out in public. Additionally I recommend checking out the Lovense Hush 2 if you like anal play.
At the beginning of 2021, Lovense were proud to offer you Lush 3! The charging port was updated to a magnetic one for an easier charging process. The ...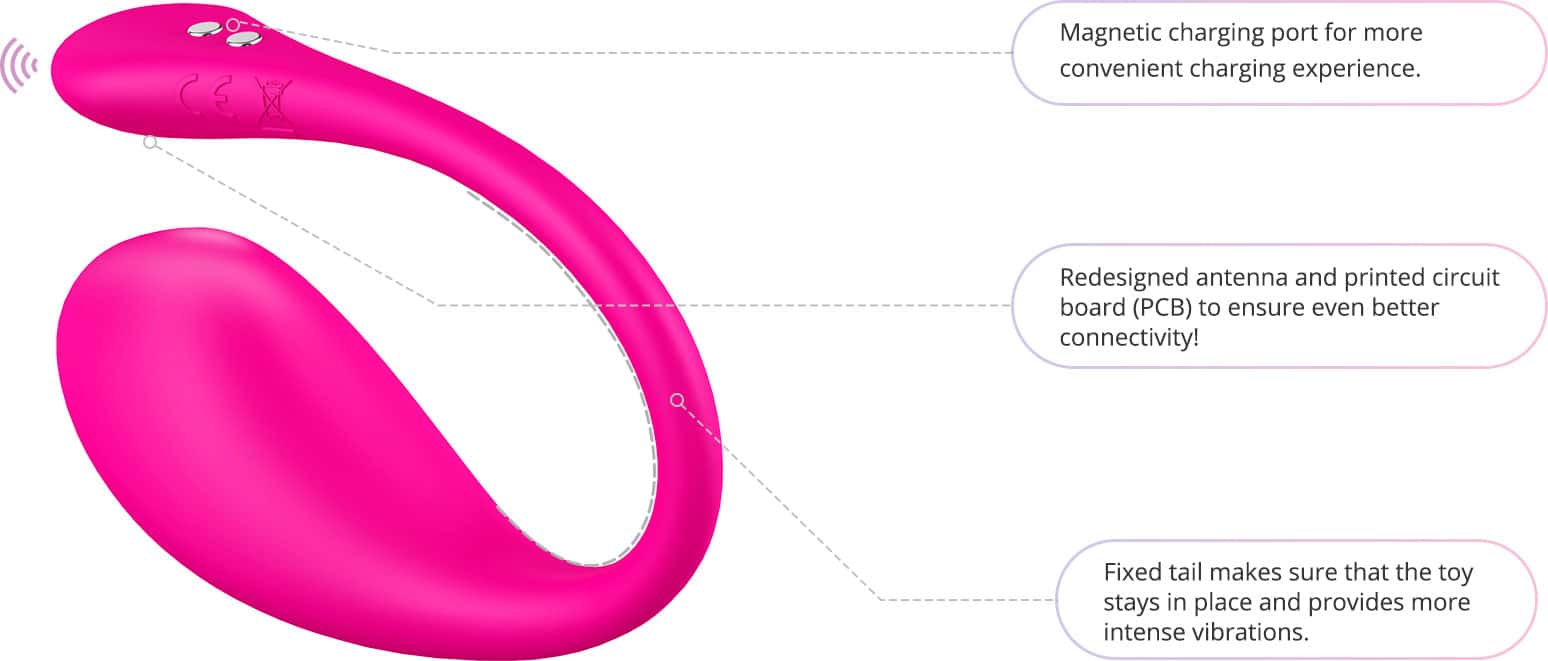 Lovense Flexer Review – Quality
A thoughtfully made design and quality construct. It has the right length and a bulbous head to make the insertion and then the movement perfect for a personal pampering session.
Here are some measurements of Flexer:
Insertable length: 3.5 inches
Bulbous diameter: 1.2 inches
Measurement from left to right: 1.5 inches
How do we interpret this? – Flexer sex toy look and feel
Well, the insertable length is perfect as it makes it easy to reach the G Spot. The bulbous head is big enough to give you pleasure but this could be a point of concern if you are a beginner or someone with a smaller frame (tighter vagina). The top edges also became a little uncomfortable when using it for a longer period of time, it would have been great if they were more smooth.
Buy From Lovense
Lovense Flexer Review – Vibration:
Flexer has strong, rumbly vibration with options to set the intensity as well as use it with stroking movement.
A Clitoral Stimulator that also pleases the G-Spot for orgasmic sensations
You can use choose clitoral stimulation and G-Spot vibrations, or come-hither movement independently or enjoy both of them at the same time. The overall sensation is pretty much similar to the manual fingering motion only more intense.
Charging and Battery Life of the Lovense Flexer:
The Lovense Flexer is a USB magnetic rechargeable device. Charging it is simple and all you need to do is plug it into a power source using the proprietary charging cable which comes with the pack.
You do not need to recharge it frequently as the battery does not drain easily even if you keep the device on standby mode for several hours. It does have a significantly shorter battery life than the Lush 3, and at only 2 hours, that wouldn't be too practical to be going out in public often with the Flexer – Compared to the Lush 3 which lasts for up to 5 hours on an 85 minute charge!
App Control – Lovense Flexer Remote Controlled App
Lovense products come with the app support system and it works great in the case of Lovense Flexer. You can control the intensity of the vibration anytime as per your pleasure. With changing frequency, you can enjoy the session to the best.
You can also use the Lovense Flexer with any of the interactive sex games compatible with Lovense.
How to use the Lovense Flexer?
Lovense Flexer is very user-friendly. You need to take care of a few things and you can have the best time using this sex toy.
Start with lubricating the head of the vibrator using lube recommended for safe vaginal use which is a lubricant in the 3.8-4.5 pH range.
You will now have to connect the vibrator with the Lovense app. To do this, turn on the vibrator by pressing the start button for 3 seconds. Using the app is easy and you will be able to navigate to the link button without much effort. From here on, the process of linking the Flexer with the app is similar to connecting your smartphone to any wearable device or connecting your phone with a Bluetooth device.
Search for available devices.
Lovense Flexer's name will appear.
Tap on the name of the device and press done.
You have successfully connected to the device.
You can use the Lovense Flexer now in the default setting or change the patterns as per your comfort and stimulation levels. The app also allows you to create patterns of your style. Click on the 'My Patterns' tab and you can set the frequency and intensity of the vibration through the tab.
If you want to keep it hassle-free, the 'Discover' icon offers you a choice of several pre-set vibration levels. Click on the 'Discover' tab, on the bottom bar, and then press 'Patterns' where there is a huge list of Lovense vibration patterns. Check out our Lovense long distance guide for more information.
Now, take the lubricated Flexer and gently insert it into your vagina. Reach out to the app and set the vibration level and motion pattern.
You can also access the Flexer's 3 steady functions + 4 patterned functions via the power button.
Buy From Lovense
How to clean and care for your Lovense Flexer?
The build of the Lovense Flexer is commendable as it is made of body-safe silicone outside and has a very thoughtful design to offer internal and external stimulation. The material used for construction is easy to clean and care for and is known to prevent bacterial growth.
Washing the device is simple as you can do so by using a water and soap combination. It is important to thoroughly clean it before using it for the first time to prevent any contamination. Then, after every use, wash it, shake off the excess water, and let it dry.
My experience of using Lovense Flexer:
I used the Flexer and it started off pretty cool. The vibrations and G-Spot stimulation had me all excited before even I inserted it in my vag.
It felt great at first when the Flexer started to work on my clit and vagina. However, the feeling did not last long as the vibration sound was a buzz kill. It was quite distracting as I knew that someone was going to hear what I was up to.
How do the finger sensations feel with the Flexer?
The finger styled movements were neat but hardly resembled the amazingness of a human finger. The head moves only one-quarter of an inch back and forth which is not stimulating enough for me or most people for that matter.
I tried wearing it and moving around, but my experience was that I could feel it starting to come out the moment I stood up to walk. However, when I sat on top of it, it held in place and the reach was also maximized.
It is a gentle sex toy and not for people like me who like to enjoy harsh thrusting and quick motion. The head is bulbous enough but it hits you only at a single place very much different from two-finger G-Spot rubbing which I like more.
I did climax but it happened when I manually held the Flexer and thrust it with my hand. The first orgasm was also not as great as I had expected from the Flexer as it is marketed as such an intense vibrating toy by Lovense. But after trying it a few more times, my experience evolved with this sex toy and I began to enjoy it much more.
I can say that while I love the Lovense brand, it is not my personal favorite. I definitely prefer the Lovense Lush 3 more as it is more comfortable to use, less noisy, and better at stimulating your G spot.
Buy From Lovense
Lovense Flexer Product Information:
The best fingering sensation you have yet to experience.
Three Motors: Choose to activate clitoral and G-Spot vibrators, or come-hither movement independently.
Wearable: Hands-free and comfortable to wear in any set-up, under any clothes.
Come Hither Movements: The insertable part provides pressure and motion against the G-Spot, creating "fingering" sensation.
Very Powerful: Each motor provides super-intense stimulation which provides pleasure in the entire vaginal area.
Control the Flexer with one or two fingers
Control the clit/G-Spot vibrators and the come-hither movement independently or together, all at your fingertips. You can easily control the Lovense Flexer with the touch of a finger to modify your experience and adjust the vibration.
Super powerful vibrations give an unforgettable climax with:
Intense, dual stimulation – Stimulate both the G-spot & clit with this sex toy.
Multiple sensations
Strong, blended orgasms
Superlight, hands-free, comfortable
Its small size, super-smooth silicone and great connectivity makes Flexer the best wearable remote controlled sex toy choice for public play.
Other Lovense Products: