Long-distance relationships and connections have become more common than ever. This has sparked loads of interest in sex-tech products that can bridge the gap between physical distance and sexual intimacy.
If you haven't heard of Lovense, you've definitely seen or heard about their sex toys – You know… like the pink egg vibrator that cam models use, or the Lovense Nora and Max 2 Bluetooth interactive toys.
Lovense has been at the forefront of sex-tech long before the concept of long-distance relationships became a necessity for many.
Their innovative products have brought a new dimension to the way we connect and interact with our partners, regardless of the miles that separate us.
One of my favorite features of Lovense sex toys is the variety of ways you can connect with other Lovense users to share in the experience.
Thankfully, in 2019 Lovense launched their forum Lovense Life – LovenseLife.com which is how you can find other Lovense users and develop remote connections with people from around the world.
From setting up your Lovense toys to troubleshooting technical issues, we're going to dive into why Lovense Life is such a great thing, how you can get started, and how to connect with Lovense users.
Let's jump straight in!
Exploring Lovense Life: A Comprehensive Guide
Lovense Life is an online platform from the official Lovense brand designed to bring Lovense sex toy users together.
It's chatroom and forum for kinky discussions, flirty conversation, allowing you to share, and even play with other users through long distance remote control.
It is designed to cater to all sexual orientations, providing a safe and inclusive environment for everyone.
Lovense Life – A Community to Connect Lovense Toy Users Together
Lovense Life is a great place to socialize and get to know the Lovense community better. The platform also has various discussion categories, including General Chat, Interactive Toys, Long Distance Relationships, and Gaming.
These categories allow users to share their experiences, ask questions, and get advice on various topics related to Lovense products and long-distance relationships.
Live Dating Feature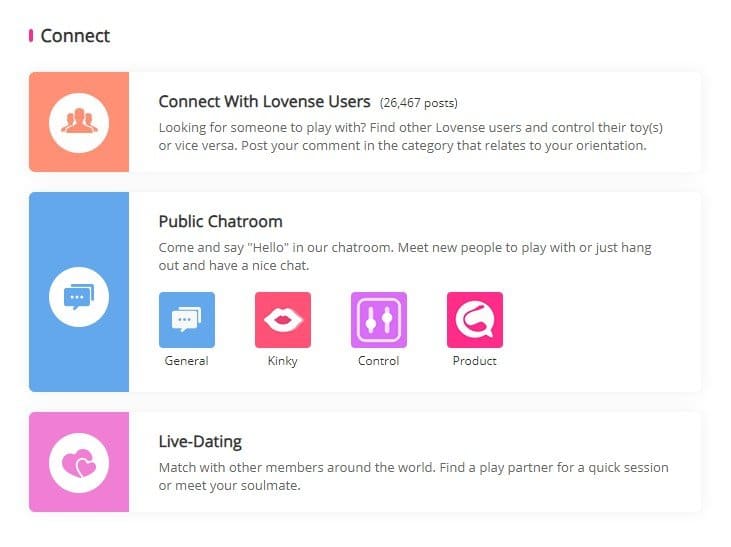 Lovense Life also offers a unique feature called "Live-Dating." This feature allows you to match with other members around the world. Whether you're looking for a play partner for a quick session or hoping to meet your soulmate, Live-Dating has got you covered.
It is only available using your mobile device, there is no desktop app for it, but that shouldn't be a problem for most users.
Lounge For Model Accounts
For cam models, Lovense Life offers a dedicated lounge for model accounts where they can get tips and advice, as well as support on how to use Lovense products to maximize their revenue to help earn extra money.
There's also a Developers Corner for those interested in the technology behind Lovense's products and building upon it.
Connecting on Lovense Life: How to Find and Engage with Users
Finding other users on Lovense Life is a breeze. You can find friends, partners, and even strangers who share your interest in Lovense products.
The platform allows you to connect with other users based on your preferences. So, whether you're looking to control a toy, have your toy controlled, or share bi-directional control between two toys, Lovense Life has got you covered.
The community is pretty active with people posting and interacting daily. Lovense has developed a pretty loyal fanbase and a great community of people thanks to their hard work and amazing sex toys.
You can send a friend request and view people in your friend list you are connected with.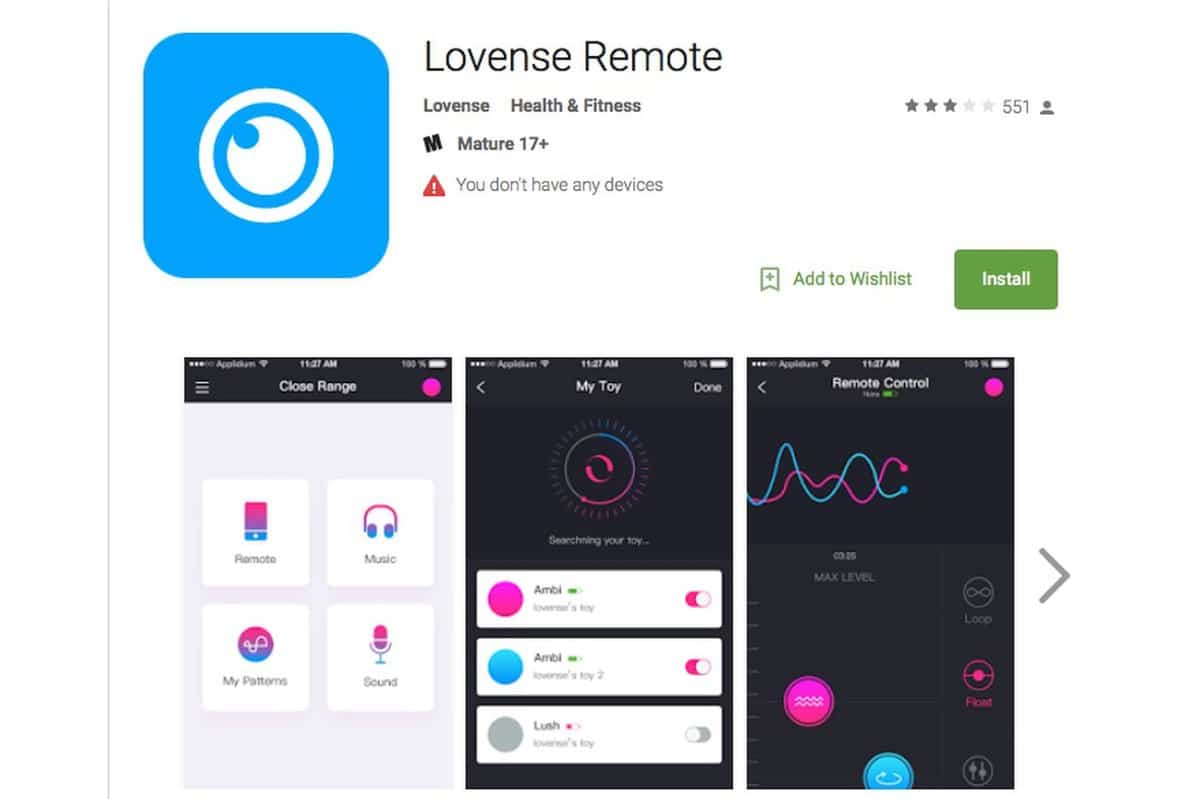 It is 100% free to get started and join Lovense Life, all you need to do is log in using your Lovense registered email address or sign up, review and update your profile, read the Code of Conduct, and start engaging with the community.
My Experience With The Lovense Life Forum
I personally really like Lovense Life. I recommend anyone looking to connect with other Lovense users to join and give it a try.
The one thing that I would note is that I did notice the majority of the requests I see are from males or for the male oriented Lovense toys.
Although you can find users in the chat group when you're wanting someone to take control of your toy with the control app or control someone else.
It is typically about 20 to 1 in the chat requests using the control feature to send their control link in the chat.
I've managed to connect with both females and males for some long distance pleasure so it might just be the time of day that I'm often in there.
Either way, if you're not having much luck finding other users to control or be controlled by, there are still other methods and ways to find Lovense users.
Beyond Lovense Life: Alternative Ways to Connect with Lovense Users
While Lovense Life is a fantastic platform, it's not the only way to find Lovense users. There are plenty of other ways to connect with like-minded individuals.
For instance, you can join online forums, participate in social media groups, or even attend Lovense-themed events such as the recent Lovense Orgy. The possibilities are endless!
Lovense Cam Models
Connecting with cam models is an exciting way to find Lovense users.
Many cam models use Lovense products, and they're always looking for people to interact with. By connecting your Lovense toys with models, you can explore new experiences and meet other Lovense users.
You may even find your favorite performer has one and you can watch them through Chaturbate or other streaming services that integrate with Lovense sex toys.
Imagine watching live as you take control of their sex toy, pleasing them as it is synced with your very own Lovense products.
Obviously this will come at a price, these things are a good money earner for many cam models. But the value is there and you will get your moneys worth.
Are you a cam model wanting to get started? Find out how to connect Lovense to Chaturbate.
Gaming with Lovense: An Interactive Way to Connect
Did you know that Lovense also offers interactive games? That's right! With Lovense Games, you can have fun and connect with other users in a whole new way.
From simple games to more complex simulated ones where you can create your own characters and avatars, there's something for everyone.
Games like 3DX Chat enable you to enter a virtual world – that is fully compatible and syncs with your Lovense toys of course.
You can completely immerse yourself virtually in the game, connect with other Lovense users in the game, and even have virtual sex with them.
This was such a fun experience to try with my partner and I when he was traveling for work.
Want to learn more? Check out our comprehensive guide on Lovense Games.
Lovense Toy Orgy: An Online Synchronization Meetup
Have you heard about the Lovense Toy Orgy?
The LovenseOrgy event, organized by Lovense on July 1st, brought together Lovense remote toy users in an electrifying and immersive experience.
By using the hashtag #LovenseOrgy on Twitter within a 24-hour period, participants synchronized their toys' vibrations with other users, creating a shared journey of pleasure and connection.
This event transcended physical boundaries and fostered a vibrant community, allowing users to explore their desires and find a sense of belonging with like-minded individuals.
Participating in events like LovenseOrgy offers Lovense users a unique opportunity to connect with others who share their interests and desires.
By embracing these events, users can discover a community that appreciates the pleasure Lovense toys can bring, as well as forge meaningful connections with fellow enthusiasts.
Stay tuned to Lovense's Twitter account for updates on future events, as they offer not only the chance to connect with other users but also the potential to experience synchronized pleasures, win exclusive prizes, and further enrich the sense of community within the Lovense ecosystem.
These events serve as a reminder of technology's ability to create immersive experiences and foster connections that transcend physical limitations.
Conclusion
Finding and connecting with other Lovense users doesn't have to be complicated. With platforms like Lovense Life, interactive games, and online meetups, you can easily find like-minded individuals to share your experiences with. So, why wait? Start exploring today!
New to Lovense sex toys? Check out our Lovense long-distance setup guide.
And while you're at it, don't forget to check out our Lovense reviews of various Lovense products. Whether you're interested in the Lovense Lush 3, the Lovense Max 2, or any other Lovense product, we've got you covered!
Share Your Lovense Experience
We'd love to hear about your experiences with finding and connecting with Lovense users. Do you have any tips or stories to share? Feel free to leave a comment below. Your insights could help other readers navigate their own Lovense journey.
Read our Lovense Sex Toy Reviews
More Info About Lovense Life & Finding Lovense Sex Toy Users
Internet Connection:

Stable Internet Connection: A reliable and consistent internet connection is required to ensure smooth operation of Lovense products.
WiFi-Enabled Smartphone: Lovense products can be controlled and synchronized with a smartphone that has Wi-Fi connectivity.
Cellular Data Connection: Lovense products can also be used with a smartphone that has a cellular data connection for remote control and interaction.
Lower-Quality Data Connections: While Lovense products can work with lower-quality data connections, the performance may be affected.
Internet Connection: An active internet connection is necessary to connect and control Lovense products.
Connectivity Issue: Troubleshooting and resolving connectivity issues with Lovense products and internet connection.
Device Versions:

Smartphone Version: Lovense products are compatible with various smartphone models.
Desktop Version: Lovense products can also be used with desktop computers or laptops.
Bluetooth 4.0: Lovense products require a smartphone or computer with Bluetooth 4.0 or higher for wireless connectivity.
Desktop Works With Sound: Lovense products are designed to work with sound input from desktop computers, enhancing the interactive experience.
Lovense Products:

Lovense App: The Lovense app is the dedicated application used to control and customize Lovense products.
Lovense CEO: Information about the CEO of Lovense, the company behind the development of these products.
Lovense Connect: Lovense Connect is a feature that allows users to connect and sync Lovense products with compatible devices.
Lovense Reviews: Reviews and feedback from users regarding their experiences with Lovense products.
Lovense Usernames & Jerk Group: Usernames and groups associated with Lovense products for social interactions and sharing experiences.
Control Options:

Toy Control: The ability to control and adjust the settings and features of Lovense toys.
Internet Control: Controlling Lovense products remotely via the internet, enabling long-distance interactions.
Long-Distance Control: Using Lovense products for long-distance pleasure and interactivity.
Long-Distance Control Options: Different options and settings available for long-distance control of Lovense products.
One-Time, Time-Limited Control: Temporary or limited control of Lovense products for specific situations.
Quick Or Long-Term Sextech Connections: Options for connecting Lovense products quickly or for long-term usage.
Long-Distance, Fully Interactive: Lovense products offer fully interactive experiences even in long-distance relationships.
User Interactions:

Official Subreddit: The official subreddit where Lovense users can engage in discussions, share experiences, and seek support.
Technical Assistance: Support and assistance provided to users for any technical issues related to Lovense products.
Chat Room Smartphone: Lovense products can be used in smartphone-exclusive chat rooms for interactive experiences.
Chatrooms' Smartphone Exclusive: Exclusive features and interactions available in smartphone-based Lovense chat rooms.
Twitter Username: Lovense's official username on Twitter for updates, announcements, and customer support.
Streamate Username: Lovense's username on Streamate, a platform where users can enjoy interactive experiences.
Legit Usernames: Verified and trusted usernames associated with Lovense products.
Bluetooth Connectivity:

Bluetooth Dongle: An external device used to add Bluetooth connectivity to devices that don't have built-in Bluetooth support.
Proprietary Bluetooth Adapter: A specific Bluetooth adapter designed for compatibility with Lovense products.
Related Topics to Lovense Life How to find other Lovense Users:

Lovense Life forum

Lovense Life

Lovense Users

Lovense Chat

Lovense Control Link

Lovense Forum

Lovense Control Links

Lovense Links

Lovense Usernames

Lovense Life chatroom

How to find other Lovense users

Connecting with Lovense users

Lovense Life community

Lovense Life features

Live-Dating on Lovense Life

Lounge for model accounts on Lovense Life

How to connect with Lovense users

Connecting with Lovense cam models

Alternative ways to find Lovense users

Lovense interactive games

Lovense Toy Orgy event

Participating in Lovense events

Sharing experiences with other Lovense users
Miscellaneous:

Invalid Email: Troubleshooting and resolving issues related to invalid email addresses during registration or communication with Lovense.
Common Issue: Commonly encountered issues with Lovense products and their possible solutions.
More Lovense Posts