Spicing up your intimate moments, be it solo or partnered should be fun and exciting. That's why we've done the research for you. These best remote control vibrators are just what you need as your new trusty bedroom companion.
From WiFi to Bluetooth app-controlled vibrators, our sex toy experts at Sexsi Toys have vetted and curated the top remote controlled vibrators of 2023.
Tailored for maximum pleasure near or far so you'll be sure to find the perfect bedroom bestie for you with minimal effort.
Browse through our top picks and discover the exciting possibilities that await you – there is something for everyone in our list!
Quick-View of the Best Remote Control Vibrators:
TL;DR – Below is a quick-view of the best remote control vibrators. Continue below this list for more information and details about each sex toy.
Continue reading below for more information. We've gathered the best remote control vibrators available, according to sex experts and thousands of reviewers. All curated by our team of professional sex toy reviewers.
These best remote control vibrators will deliver the ultimate in pleasure.
Remote Control Egg Vibrator: Lovense Lush 3
The Lovense Lush 3 isn't your typical egg vibrator. Probably one of the most well-known vibrators among cam models – you know, that pink egg vibrator with a tail? Yes that's the Lush 3.
The egg slides snugly inside your vagina for g-spot stimulation, while the other end snuggly hugs your body holding it in place.
It's the ultimate sex toy for solo play or for adding a dose of adventure to long-distance relationships. Your partner can take control of the settings from another room – or another country with the Lovense Remote smartphone app, turning your pleasure into an interactive experience.
Feeling even more kinky? Let strangers take control of your remote vibrator with the Lovense Life community, or monetize your pleasure connecting Lovense with Chaturbate or other cam model software.
When it's time for self-pleasure, you can access infinite vibration patterns and three intensity levels right from your smartphone. Pair the Lush 3 with the app for a Bluetooth-controlled close-range frolic, or connect it to Wi-Fi for some titillating long-distance fun.
The Lush 3 comes with adjustable vibration intensities, a 4.5-hour battery life, and is USB-rechargeable.
Read our full Lovense Lush 3 Review.
Read More Info +
Pros:
Cons:
---
Kiiroo Esca 2
The Esca 2 by Kiiroo is a Bluetooth-enabled remote control egg vibrator. Specially designed to sync with Kiiroo—an interactive app that seamlessly connects with your toy—it facilitates a virtual intimacy that's ideal for those in long-distance relationships. Plus, it's all about G-spot fun, enhancing your pleasure with unique bells and whistles.
One such innovation is the capability to use an Apple Watch or iPhone as a remote control. There's also the "club mode," which syncs your vibrations with music or ambient sounds. Imagine going to a club and secretly getting off as you immerse yourself in the rhythm of pleasure.
The Esca 2 is notably soft and flexible, curving to match your body's shape and offering a choice of three intensity levels and two vibration modes.
Perfect when you need long-distance and app control capabilities, and if you favor moderate vibrations over intense stimulation, the OhMiBod Kiiroo Esca 2 outperforms other budget-friendly app-controlled options in terms of control and connectivity.
The Esca 2 is designed for discretion. It's so quiet you could wear it almost anywhere, even in more subdued settings like certain cafes. If power is more your style, you might prefer the Lovense Lush 3, which offers similar app control features. But if you tend towards softer stimulation, the Kiiroo Esca 2 could be your perfect match.
Read More Info +
Pros:
Cons:
---
We-Vibe Chorus
We-Vibe is a leader in the remote control vibrator arena, largely thanks to its revolutionary We-Connect app. Industry experts praise several of We-Vibe's wearable app-controlled vibrators, with the crown jewel being the We-Vibe Chorus.
As Janine Whitfield, sex educator and brand manager at The Sex Stories, attests, "In the years I've been at The Sex Stories, I've seen a lot of iterations of We-Vibe's signature C-shaped wearable vibrator, but the Chorus is undoubtedly their best. It offers an even more adjustable design to contour to the wearer's body, a smoother motor, and a squeeze function in the remote, making the vibrations more intense as you grip the base harder."
The Chorus' insertable C-shape design provides simultaneous internal G-spot stimulation and external clitoral pleasure. This toy slips comfortably inside the vagina, and externally fits snug covering the clitoris. Its versatile design means you can wear it solo, or use it in conjunction with penetrative sex.
Read More Info +
Pros:
Cons:
---
Lovense Max 2
The Lovense Max 2 is a highly-popular remote control vibrating male masturbator. Not only is this sex toy great on its own, but pairs perfectly well with the Lovense Nora (Or virtually any other Lovense remote control sex toys).
Offering a powerful and versatile experience. Especially when used with the Lovense Remote app for customizable pleasure, from gentle strokes to powerful orgasmic pulsations.
This makes it a favorite among solo users and long-distance couples alike.
Enjoy hands-free pleasure enabling you to watch your favorites even with VR porn headsets, or connect with Lovense compatible games.
The Max 2 is designed with an adjustable air pump and vibration settings that allow for immersive internal stimulation. It also features a body-safe, skin-like sleeve that creates a lifelike feel for an even more intimate experience. Its rechargeable battery provides hours of continuous pleasure, making it perfect for extended sessions.
Read our full Lovense Max 2 Review.
With the Lovense Max 2, you and your partner can synchronize your experiences for shared enjoyment, no matter the distance, or you can go it alone for some personal pleasure.
See our article of the Lovense Max 2 vs Lovense Calor comparison.
Read More Info +
Pros:
Cons:
---
Lovense Nora
How does virtual remote controlled sex sound to you?… The Lovense Nora is a cute versatile remote control rabbit vibrator that pairs perfectly with the Lovense Max 2.
Not only is it Bluetooth-enabled, but it also pairs seamlessly with the Lovense Remote app, offering personalized pleasure that ranges from gentle pulses to potent waves, making it a favorite among both individual users and long-distance couples – A perfect option as sex gifts for long distance relationships.
The Nora is designed to mimic the feel of a lover's touch. Its rotating head targets the G-spot for intense internal stimulation, while the flexible, vibrating arm provides just the right amount of clit stimulation needed to get you over the edge and into orgasmic pleasure.
One of the highlights of the Lovense Nora is its compatibility with other Lovense toys. There are many rabbit vibrators available, but few provide as much compatibility as the Nora. And with it being long-lasting and rechargeable, the Nora provides hours of continuous enjoyment.
Read our full Lovense Nora review.
Read More Info +
Pros:
Cons:
---
Kiiroo Pearl 3
Pearl 3 by Kiiroo, one of the most advanced remote controlled G-spot vibrators on the market, using touch-sensitive technology to tailor your sexual experience.
The Pearl 3 features a gentle curve, perfectly designed for targeted G-spot stimulation and versatile external pleasure. Its three bumps specifically target and intensify G-spot stimulation when inserted.
Using the FeelConnect app, it can remotely sync with all Kiiroo products, allowing partners to intimately connect in real-time, no matter where they are. Just like Lovense products, this feature also empowers webcam performers to allow fans to control their vibrator for interactive tipping.
What sets the Pearl 3 apart from its predecessor, the Pearl 2? Appealing new colors (Purple and Pink), improved touch plates that extend into the tip for a more responsive touch experience.
Further enhancing your sexual experience, the Pearl 3's silicone contours around the G-spot area, focusing and directing vibrations for ultimate pleasure.
With an added 3 hours of battery life, the Pearl 3 is primed for extended play, multiple sessions, and professional use. The question is, who will tire out first?
Read More Info +
Pros:
Cons:
---
Lovense Ferri
A dynamic player in the realm of remote-controlled sex toys is the Lovense Ferri. This cute remote control panty vibrator not only delivers a powerful and diverse pleasure experience but also pairs seamlessly with the Lovense Remote app, allowing you to customize your pleasure from subtle whispers to potent throbs.
The Ferri shines in its sleek design, specifically designed for discreet clitoral stimulation. Its strong magnetic cap ensures it stays discreetly in place, nestling against your body comfortably without being noticeable. The device is designed to be whisper-quiet, offering a clandestine thrill for those bold enough to venture into public play.
Lovense Ferri's ability to sync with other Lovense devices provides the option for an interactive pleasure experience, syncing your pleasure with your partner's, whether they're right beside you or miles away.
With its durable battery, the Ferri is primed for extended, uninterrupted sessions of bliss.
Read More Info +
Pros:
Cons:
---
We-Vibe Moxie
Introducing the We-Vibe Moxie, an excellent affordable alternative option for a remote control panty vibrator. The Moxie is a clitoral panty vibrator that offers tailored pleasure with its variety of settings, ranging from soft whispers to powerful throbs, all controlled through the We-Connect app.
The Moxie excels in its discreet and wearable design. With its magnetic clip, nobody will know you're using it. The Moxie attaches securely to your underwear, nestling against your body to provide focused clit stimulation. It's also whisper-quiet, making it a perfect companion for those looking for some thrilling public remote control vibrator pleasure.
Share the fun with your partner. The We-Vibe Moxie is compatible with other We-Vibe products either in close proximity or from a distance. The Moxie ensures hours of continuous pleasure, making it an ideal pick for extended play.
Read More Info +
Pros:
Cons:
---
We-Vibe Nova 2
Step into the future of pleasure with the We-Vibe Nova 2. Being an innovator in of remote-controlled sex toys means our sex experts agree that this is a worthy addition to our list of best remote control vibrators.
The dual-action vibrator pairs with the We-Connect app, granting you a personalized experience, from gentle pulses to intense waves of stimulation.
The Nova 2 stands out with its intuitive design, simultaneous G-spot and clitoral stimulation while also providing the opportunity to orgasm at the same time as your partner over any distance apart.
Its adjustable internal G-spot stimulator ensures a perfect fit, while the flexible external arm maintains constant contact with your clit even during movement. The design allows the Nova 2 to adapt to your unique body shape for maximum pleasure.
Pros: Offers simultaneous dual stimulation for a comprehensive pleasure experience;s; compatibility with other We-Vibe toys for shared experiences.
Cons: The advanced features may present a learning curve for beginners; it may not be powerful enough for users who prefer more intense vibrations.
Read More Info +
Pros:
Cons:
---
Lovense Hush 2
The Lovense Hush 2 is one of the top-recommended anal remote vibrators. This app-controlled anal plug ensures a customizable journey, offering a wide array of stimulation intensities, from subtle pulses to powerful vibrations, all via the Lovense Remote app.
The Hush 2 shines in its comfortable and secure design, created to provide thrilling prostate stimulation and anal pleasure for any gender.
Having a spiral neck design keeps lube near your butt for easy removal after play.
It's also quiet, and not noticeable that you're wearing it, making the Hush 2 a great option to venture out in public for some remote control anal fun.
Coming in a range of sizes, the Hush 2 provides an option for everyone. No matter if you're a first-time anal explorer, or a veteran pleasure seeker.
Read our full Lovense Hush 2 review.
Read More Info +
Pros:
Cons:
---
Kiiroo Lumen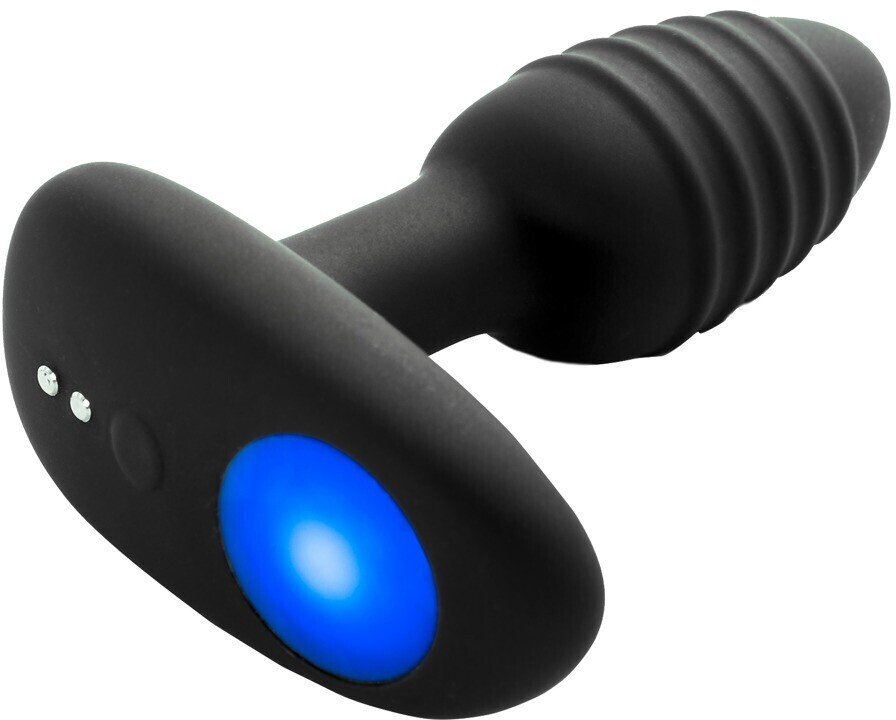 The Kiiroo Lumen is a great alternate option as a remote control anal vibrator. This app-connected anal plug serves up a tailor-made journey of sensations, with a range from gentle throbs to potent pulsations, all via the FeelConnect app.
Designed and intended to deliver delectable anal stimulation. Its tapered shape ensures a comfortable fit, and the LED light at the base adds an exciting visual element to your play.
Compatible with other Kiiroo devices, the Lumen provides both self stimulation for solo sessions, and also a shared pleasure experience, synchronizing your play over long-distances.
Pros: ; compatibility with other Kiiroo toys for a shared experience; impressive battery life for extended play
Cons: Might not offer enough stimulation for those seeking intense sensations; the LED feature might not be for everyone
Read More Info +
Pros:
Cons:
---
We-Vibe Melt
Say hello to the We-Vibe Melt, a remote control clit stimulator that offers a personalized pleasure experience. With a spectrum of intensities ranging from gentle ripples to deep pulsations, all manageable via the We-Connect app.
The Melt uses fancy Pleasure Air™ technology that swallows up your clit with gentle waves and pulsating rhythms, without any direct contact. Trust us, you've got to experience it for yourself!
Its sleek, slim design ensures a comfortable fit between partners during intercourse, adding a unique dimension to shared intimacy.
The Melt provides hours of uninterrupted clit stimulation over any distance. Controlled remotely and compatible with all We-Vibe remote control sex toys.
Read More Info +
Pros:
Cons:
---
Even if you're faithful to your current go-to vibe, adding a remote control vibrator to your collection from our list above could be the tantalizing twist you need in your life to hit all the right spots.
Remote vibrators enable a whole range of possibilities such as long-distance sex, public play, and interactive virtual sex games… as well as pure hands-free solo fun of course. We think remote sex toys are some of the best sex toys for couples.
How We Choose The Best Remote Control Vibrators
Over the last few months, the editorial team at Sexsi Toys, along with our experienced sex toy tester, have been diligently testing out the best-selling, top-rated, and most buzzed-about best remote control vibrators on the market.
We sought the wisdom of three additional sex experts to help us understand the finer points of these pleasure devices. After that, we analyzed thousands of customer reviews and ratings to distill the list down to the cream of the crop.
This rigorous process has allowed us to identify the finest remote control vibrators that cater to a diverse array of preferences and needs.
Additional Remote Control Vibrator Options:

Remote Control Vibrator for Couples:

We-Vibe Sync Remote Control Vibrator for Couples

Couples remote control vibrator

Partner-controlled vibrator

Bluetooth couples vibrator

Long-distance remote vibrator

Shared pleasure vibrator

Intimate play vibrator

Remote Control Vibrator for Solo Play:

Lovense Dolce Remote Control Vibrator for Solo Play

Solo remote control vibrator

Self-controlled vibrator

Hands-free remote vibrator

Discreet wearable vibrator

Personal pleasure vibrator

Remote Control Vibrator for Long-Distance Relationships:

Lovense Nora & Lovense Max 2 Remote Control Vibrator for Long-Distance Relationships

LDR remote control vibrator

Remote sex toy for LDR

Virtual intimacy vibrator

Internet-controlled vibrator

Connected pleasure device

Remote Control Vibrator for Clitoral Stimulation:

We-Vibe Melt

Clitoral remote vibrator

Remote clitoral stimulator

Wireless clitoral vibrator

External remote control vibrator

Remote bullet vibrator

Remote Control Vibrator for G-Spot Stimulation:

We-Vibe Unite 2 Remote Control Vibrator for G-Spot Stimulation

G-spot remote vibrator

Remote G-spot stimulator

Wireless G-spot vibrator

Internal remote control vibrator

Remote dildo vibrator

Remote Control Vibrator with App Control:

Lovense Lush 3 Remote Control Vibrator with App Control

App-controlled remote vibrator

Smartphone-controlled vibrator

Bluetooth app vibrator

Remote control via mobile app

Wireless app-enabled vibrator

Quiet Remote Control Vibrator:

We-Vibe Sync 2 Quiet Remote Control Vibrator

Whisper-quiet remote vibrator

Silent remote control vibrator

Discreet wireless vibrator

Noiseless remote-controlled vibrator

Stealthy pleasure device

Powerful Remote Control Vibrator:

Lovense Gravity Powerful Remote Control Vibrator

High-intensity remote vibrator

Strong remote-controlled vibrator

Intense wireless vibrator

Vibrating with powerful remote control

Mighty pleasure device

Waterproof Remote Control Vibrator:

Lelo Tiani 3 Waterproof Remote Control Vibrator

Submersible remote vibrator

Waterproof remote-controlled vibrator

Wireless vibrator for shower/bath

Wet and wild remote pleasure

Aquatic pleasure device

Luxury Remote Control Vibrator:

Lelo Tiani 3 Luxury Remote Control Vibrator

Premium remote vibrator

High-end remote-controlled vibrator

Luxury wireless vibrator

Designer remote pleasure device

Sophisticated pleasure gadget
Things To Consider When Buying a Remote Control Vibrator:

Things To Consider When Buying a Remote Control Vibrator:

Remote Control Vibrator

Bullet Vibrator

Rabbit Vibrator

Wearable

Love Egg

Remote-Controlled

Remote-Control

Remote Control

Remote Vibrator Brands and Manufacturers:

Lovense

We-Vibe

Lovehoney

OhMiBod

Vibease

Lelo

Adam and Eve

Calexotics

Remote Vibrator Technology and Connectivity:

Battery

Battery Life

Wi-Fi

Bluetooth

Virtual Reality

Remote Vibrator Design and Features:

G-Spot Vibrator

Vibrations

Vibration

Clit

Erogenous Zone

Perineum

Suction

Suction Cup

Butt Plug

Prostate Massager

Remote Vibrator Aesthetics and Appearance:

Remote Vibrator Price and Cost:

Remote Vibrator Orgasms and Sexual Stimulation:

Orgasms

Sexual Stimulation

Health and Exercises:

Kegel Exercises

Sexual Health

Miscellaneous Remote Vibrator Terms:

Lumen

Spice

Hyphy

Black Hole

Deia

Hueman

Grey

Grey

Blue Motion

3 In

The Austin Chronicle

Table of Contents

Other Sex Toys and Accessories:

Strap-On

Cock Ring

Prostate

Venus

Venus Butterfly

Wand

BDSM Relationship

P-Spot

Silicone

Shower

Bullet Vibrators

Wireless

3 In

G-Spot Vibrators

Masturbation

Vibrating Panties

Penis

Sex Toys

Fantasy

Cock Rings

Fetish

Vibrating

Butt Plugs

Anal Beads

Anal

Dildos