Turbo Thrust Blowjob Masturbator by Fleshlight – Reviewed and Tested
I remember way back when I first heard about the Fleshlight brand. I first came across it as I was browsing some adult content and saw a girl using one to please the guy.
It was fascinating! It made me dive deep into the world of possibilities with sex toys. I found out about pocket pussies and realistic masturbators.
It is safe to say that by now, I'm no stranger to them and have tried out hundreds of them by now! Literally.
So when I first heard about the latest release from Fleshlight and saw how it looked, I couldn't wait to do this Turbo Thrust review and give it a try for myself.
What is the Fleshlight Turbo Thrust?
Incase you didn't know, the Fleshlight brand is one of the most well-known sex toy companies for penis masturbators in the world. Using completely body-safe materials, and known famously for the replica pussy of Riley Reid.
The Fleshlight Turbo Thrust is a new sex toy that offers a realistic experience made to simulate the sensations of oral sex. With its futuristic appearance, the oral sex simulator provides a unique abstract orifice design that has a non-anatomical entry, separate holes, and a multi-point floating entry design.
Yes, it is a blowjob machine!
With three uniquely designed points of insertion, the Turbo Thrust aims to provide you with a controllable and satisfying blowjob experience no matter if you prefer just the tip of your penis to be stimulated, or if you prefer the full-on experience of deep throating and going balls deep while it makes you orgasm and cum into bliss.
You'll also be pleased to know that many Fleshlight toys (The Turbo Thrust Blue Ice included), are also compatible with the Universal Launch, which enables you to automate and use these sex toys hands-free.
That's right, the Universal Launch is a sex toy add-on that jerks you off automatically – and it is 100% compatible with the Turbo Thrust giving you an automatic blowjob machine and the tight, spine-tingling sensation of the blowjob simulator makes it a top contender for masturbation toys that you must try. I also highly recommend exploring what you can do with automatic masturbators and VR headsets for watching porn.
Unboxing My Turbo Thrust Blue Ice Sex Toy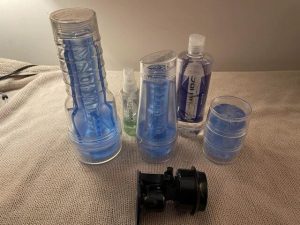 The first thing you'll notice about the Turbo Thrust is that the design is completely clear and see-through. In my opinion, I love the idea of a clear Fleshlight sleeve design. I really did find it more fun and memorable being able to see things in action and are able to position things properly was just a really great experience.
What Do You Get With The Fleshlight Turbo Thrust?
Clear Turbo Thrust Blue Ice Case
Turbo Thrust Sleeve
Instruction manual
Small packet of Fleshlube
Fleshlight Gold Card – With Discounts
Essentially they all come boxed with the catalogue of products, and the Turbo sex toy was no different. You get a packet of lube, but I would highly recommend getting a bottle of your own because it is barely enough for one time use.
Inside is the toy itself with the plastic, clear casing, and the clear Turbo Fleshlight toy. This thing looks wild! As soon as it arrived I got horny and excited to give it a go.
What Makes The Fleshlight Turbo Thrust So Great? – Difference from Regular Fleshlights
What sets this toy apart is the front orifice. The Turbo Thrust hasn't been made to look like a vagina, anus, or mouth like many other of their toys.
So if you aren't a fan of the realistic toys that look like fake mouths – or your partner doesn't like the idea of you sticking your penis in another (simulated) realistic looking orifice, then this might be a great option for you to still enjoy.
To be honest, while the fake pussy and ass are fine, it has always been the mouths that seemed a little odd to me. So the transparent sleeve is nice for a change to a blowjob sex toy.
Three entrance points on the Turbo Thrust
The front part of the toy is actually somewhat detached from the entrance of the toy, and it is designed that way to simulate the entrance of a mouth. The second entrance simulates the sensation of a tongue, and the third gives it the feeling of a deep throat experience.
Turbo Thrust Advertised as the Blowjob Fleshlight
As mentioned above, the Turbo Thrust is advertised as the ultimate blowjob experience Fleshlight, and in that regard it does exceptionally well. The feelings and sensations you get from the Fleshlight Turbo are an absolute must-try.
Does it feel like an actual blowjob?
While the Fleshlight Turbo is one of the best blowjob toys I've tried in a long time, nothing will ever beat a real blowjob. The Turbo Thrust will give you a good enough alternative when you don't have the option.
How does the Turbo Thrust Feel? – My First Fleshlight Turbo Review Experience
My first experience with the Turbo Thrust was one to remember. I took the fleshy jelly-like textured toy and lubed it up with the packet that came in the box – Of course I also have a lot of different lubes to use but I didn't want this one to go to waste.
I thankfully live a relatively private life and my roommates are usually working late hours so that is the perfect time to test out new toys as I love a good masturbation session before going to sleep.
As I lay back and went inside the Turbo Thrust I almost instantly got that adrenaline rush and the excitement you feel when you know your about to get a really good blowjob. I could have closed my eyes and pumped away at it due to the blissful feeling and been done within a short amount of time it was that good. And I'm no stranger to sex toys so this was a pleasant surprise.
Instead I decided to work with it and try to push against my instinctive urges to please myself as fast as I could. I wanted to take my time with it and savor the moment. Enjoy it.
Turbo Thrust Masturbator Sleeve & Sensations
Having the three entrance points with different sleeve textures was a brilliant idea, and it gives you such great control over the suction that it feels like you enter the mouth of a blowjob superstar.
These silicone entrances also act as a bit of additional grip to add to that grip and suction that you get with real lips and tongue that are sucking you off.
What is pretty cool is the different textures that you get the deeper you go. Aiming to simulate the deep throat effect from someone who really knows what they are doing.
You can reduce or increase the length of your strokes as you thrust the Turbo Fleshlight up and down against yourself.
At the end of the Turbo Thrust there is a screw cap to adjust and either tighten or loosen the suction effect so if you like a more intense sucking motion to your blowjob – or if you like things nice and sloppy, then you can pick and choose your preference.
The Perfect Sexy Sloppy Deep Throating Feeling
Ultimately I think that this toy nicely imitates the feeling of a really good sloppy blowjob. When I say sloppy, I don't mean bad. I mean the really great kind that is full of slippery suction and a range of intense textures that you can't help but to get off to.
Even the slippery sound of having plenty of lube inside giving that realistic blowjob sound made me even more excited.
If your significant other isn't so keen on giving blowjobs, then this is a perfect alternative because not only can you get a satisfying blowjob, but you can then also enjoy some great sex with your partner as well.
We are all strong advocates for sexual wellness and wellbeing here at Sexsi Toys and recommend talking to your partners and communicating what helps you to enjoy a satisfying sex life.
The Turbo Thrust is a toy that I have no problems recommending to anyone to give a try. Blow job fan or not, you'll really enjoy the different angles of penetration and it provides adequate stimulation to please almost anyone.
Cleaning Your Turbo Thrust Fleshlight
A lot of people I've seen online have stated that the Fleshlight Turbo Thrust is harder to clean than other Fleshlight sex toys, however I didn't really find the cleanup too much of a problem.
You have a completely hollow tube and the fleshy Turbo sleeve hole and canals allow you to really get in there and give it a good wash with warm water to ensure that it is completely fresh, clean, and hygienic ready for your next use.
All you need to do is separate the parts and give it all a thorough rinse. You can also use sex toy cleaners if you have the budget to buy one or anti-microbial soap. But even just after a good rub down of the Fleshlight sleeve you can soak it for about 5-10 minutes in warm water and leave it out to dry.
Storage is only a problem if you want to discreetly have your toys in plain sight. The casing is clear and it will be quite obvious what it is if someone were to see it. So I recommend just storing it in the plastic housing/case that can be completely sealed so nothing can get into it while stored away. Just be sure that it is all dry first.
Very Enjoyable!!
Dubbed as the ultimate blowjob experience, the Fleshlight Turbo Thrust certainly delivers a satisfying experience that will have you cumming back for more. While not a completely realistic experience, it sure feels amazing. I've tried a lot of Fleshlight products and this is definitely one worth purchasing just for the unique feeling it gives you... Especially with the heating base!
PROS
Easy to adjust for suction
Super easy to clean
Sounds realistic, even THAT is a turn-on
CONS
May not fit all body sizes
More Fleshlight Reviews:
Who doesn't love Aussie girls? Yes, the latest Fleshlight Girl is Savannah Bond and I got to try both her pussy and ass for my Savannah Bond Fleshlight review. Read on to find out more!
❤️ Released on September 6th 2022, the Violet Myers Fleshlight is a widely anticipated sex toy among Fleshlight enthusiasts with Violet being new-ish to the industry and I couldn't wait to get my hands on one, and get inside one. I was not disappointed when I did... Continue Reading Full Violet Myers Fleshlight Review Below:  
PLAY MORE. CLEAN LESS. Meet the QUICKSHOT™ Boost by Fleshlight®, our most compact sleeve to date. Lined with thick ribs and bumps, the steely silver sleeve will amplify your pleasure with constant surprises at every thrust. Give it your best shot, you'll be thrilled with the results.
Additional information
Specification:
Fleshlight Turbo Thrust Review
| | |
| --- | --- |
| Is Discontinued By Manufacturer ‏ : ‎ | No |
| Package Dimensions ‏ : ‎ | 15.2 x 7.48 x 5.04 inches, 1.63 Pounds |
| Date First Available ‏ : ‎ | January 15, 2017 |
| Manufacturer ‏ : ‎ | ILF, LLC |
| ASIN ‏ : ‎ | B01N6SEX6X |
| Country of Origin ‏ : ‎ | USA |