My Lovense Hush 2 Review – Is the Lovense Hush 2 Good? What Do I Think About the Sex Toy?
Lovense Hush 2 Review – The ultimate guide to the Lovense Hush 2, a top contender as one of the best remote control vibrator anal toys in the market of adult toys.
The Lovense Hush 2 is not just a butt plug, it's an interactive experience that vibrates to your rhythm and can be controlled remotely, making it the perfect companion for solo play or couple's fun.
In this comprehensive review, we'll explore the features that make it stand out, from its unique design to its innovative app control.
Plus, I'll share some invaluable tips to help you get the most out of this sensational toy. So, whether you're a seasoned anal play enthusiast or a curious beginner, read on to discover why the Lovense Hush 2 is making waves in the industry and could be the perfect addition to your toy collection.
Lovense Hush 2 Review
I was curious to try the Lovense Hush 2 because all my friends were talking about it! This Internet-connected plug has a wide range of features to make long-distance play more enjoyable. Lovense have a range of great products such as their Lush 3, Max 2, Nora, and the Hush 2 so far I've been very impressed.
The Hush 2 can not only bring on anal orgasms but also prepares you for anal sex.
Hush 2 Vibration Syncing for Maximum Enjoyment and pleasure
It's possible to sync vibrations to your favorite music, cam shows, and online videos. The butt plug's app also has a programming mode, so you can create your own vibration patterns.
An Anal Sex Toy With The Perfect Fit with Size Options
You can even choose your preferred size — which is important for anal toys. It is also super comfortable to wear inside.
Keep reading to discover whether I liked it or not!
Lovense Hush 2 Sex Toy Unboxing
My Lovense Hush 2 came in a simple white box with a full-size photo of the toy. Inside the box, I found the USB charger, a handy set-up guide, and the instruction manual.
Charging the butt plug for the first time was super easy. I just pushed the charger's pin inside the port and a red light turned on, so I was sure that the toy was charging correctly. I fully charged the battery before using the anal plug vibrator for the first time.
Hush 2 Butt Plug Size Diameters:
I got the smaller size, which has an insertable diameter of 2.5 cm. The toy is available in other diameters: 3.8, 4.4, and 5.7 cm.
4 72 inches long with a 2 64 base
Trying the Lovense Hush 2 adult toy for the First Time
When I first tried my Lovense Hush 2, I took things nice and slowly. With some anal lube applied, I began caressing myself and slowly working it inside my butt. I also did it in front of a mirror since I wanted to see it.
Once the Hush 2 was inside me, my legs gave way and I collapsed with pleasure.
Intense Controllable Vibrations that Shake Your Abdomen
The vibrations are amazing and I'm so glad that there is a control on the intensity because when it is at a higher level, the motor shakes your entire abdomen.
Hush 2 has a comfortable flared base
I really like the Hush 2's shape. Its flared base makes me feel comfortable because it keeps the sex toy firmly in place and stops it from going too deep inside and prevents any problems with it getting stuck.
The flare is also small enough that it doesn't get in the way. I was easily able to use the Hush 2 in my ass while another toy for my vagina.
You'll have no problems at all if you are wanting to use the Hush 2 while having sex with your partner, or using multiple sex toys at the same time such as clitoral vibrators, vibrating panties, dildos, g-spot vibrators, Fleshlight toys, and many more paired with the Hush 2 for even more intense orgasmic pleasure.
Use the Hush 2 With or without internet or the Lovense app
Trying the Hush 2 without Internet connectivity has been a success because I really liked its rumbly vibrations. I think that it would be a great toy for men who like prostate stimulation, too.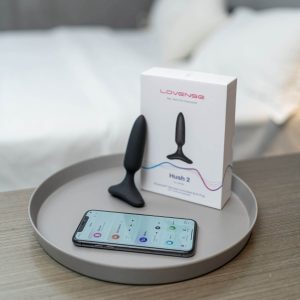 I found that the 2.5 cm version is the perfect size for me. I don't like anal vibrators that are too large. The material is a silky and body-safe silicone. It didn't smell like rubber at all. I liked this because rubber smell is a huge turn-off for me!
My Experience Using the Anal Plug & Long-Distance Remote Controlled App
The vibrations of the Lovense Hush 2 are easy to control from any distance, thanks to its advanced technology – a perfect LDR sex gift idea.
Connecting the anal vibrator to the app and giving remote control to my partner was easier than I expected. To put it simply, you just connect the plug to your own phone through Bluetooth. Then, you give control to your partner through a WiFi connection.
I downloaded the Lovense Remote app and created an account. I just used a nickname to protect my privacy ;). Then, I had my partner download it and create an account. After doing this, I was ready to give him control!
I liked all the features of the app. I think that it's super cool to video chat while my loved one controls my toy! I also enjoyed creating my own vibration modes (yes, you can do that!) and making my toy vibrate in sync with music.
Using the Lovense Hush 2 With Interactive Content
The Lovense Hush 2 also has another feature I had never seen. By downloading Lovense's VibeMate app, you can have the toy vibrate in sync with your favorite cam shows and other video content.
My partner and I like watching cam models from time to time. We thought it could be fun to have our anal vibrator react to the pleasure of our favorite models. And we weren't wrong. It was definitely an amazing experience!
For now, the VibeMate app is compatible with Chaturbate, Cam4, Stripchat, and BongaCams, but Lovense will add more platforms soon.
Lovense Sex Toy Alarm Clock
Lovense kept this one pretty quiet!… But one thing I'm not sure you'll know about is that you can also use Lovense sex toys such as the Hush 2 as an alarm. My mornings just became more interesting!
Simply set the timer using the Lovense app, just as you would for a standard alarm and you can have your favorite vibrating patters wake you up as the toy gets activated at the set time.
I don't think I'll be going back to my standard alarm clock any time soon.
Is It Worth Upgrading From the Hush 1? My Advice
I also have the Hush 1 and I think that the Hush 2 has a more ergonomic shape. Maybe it's just me but I really prefer the newest version. I also like that the Hush 2 is available in multiple sizes, unlike the Hush 1. I think I'll want to purchase other sizes in the future!
Lastly, I think that the battery of my Hush 2 lasts longer in comparison with my Hush 1. In summary, I think that upgrading to the Lovense Hush 2 is worth it!
Things I Liked About the Hush Sex Toy
In my experience, the Lovense Hush 2 is among the best butt toys on the market. It's easy to use, clean, and lasts for a long time.
Here's a quick recap of all the things I loved about the Lovense Hush 2:
It comes in body-safe materials. This is a huge priority for me!
A very powerful app controlled butt plug
I could make it vibrate in sync with my favorite camgirls and I had a blast!
Oh, and did I mention that the plug didn't smell like rubber?
The vibrations were powerful and rumbly.
Giving control to my partner through the app was easy.
I could create unlimited vibration patterns with the Lovense Remote app — it was so fun!
You can explore anal sex with Lovense games and connect with other Lovense users via Lovense Life.
It tends to have longer battery life in comparison with my Hush 1.
Hush 2 is designed to be the perfect introduction to anal pleasure or for anal experts alike
The Lovense Hush 2 is an amazing butt plug that is comfortable yet sensual, providing an unparalleled experience
Lovense Hush Review FAQ's
How quiet is the Lovense Hush 2?
It's not silent, but I found it very quiet in comparison with other sex toys I own.
Which way do you insert the Hush?
The flared base should stay outside of your body. Insert the tip first.
How big is the Hush 2? Is it available in multiple sizes?
Yes, it's available in multiple sizes! The Lovense Hush 2 is available in the following diameters: 2.5, 3.8, 4.4, and 5.7 cm.
Why is it different from other plugs?
Because it has a lot of Internet connectivity features! You can give long-distance control to your partner, so the two of you can play together even when apart. Also, you can have the toy vibrate in sync with your favorite cam model or compatible videos.
How long does the Lovense Hush's battery last?
The Hush 2 has an impressive battery life. The lithium-ion battery lasts for up to 11 hours of fun with a full charge! No need to worry about charging your sex toy while you enjoy its powerful vibrations.
Is the Remote Control Butt Plug Compatible With All Phones and Computers?
It depends on which app you want to use with your anal vibrator.
The Lovense Remote app, which is used for long-distance play, is compatible with PCs and phones with the following operating systems:
Android 4.4 and higher;
Windows;
Mac;
iOS 11 and higher.
The VibeMate app, which is used to make your toy vibrate in sync with cam models and video content, is compatible with the following operating systems:
Android 5.0 and higher;
iOS 11 and higher.
If you have a Windows PC, you can also download the Lovense Media Player, which allows you to sync the vibrations of your plug to compatible VR content. Isn't that exciting?
What Do Cam Models Say About the Hush 2 Butt Plug?
One of my dearest friends does part-time cam modeling to pay for college on her own. I'll call her Amy to protect her privacy. Amy raves about Lovense toys, so I asked her if she has the Lovense Hush 2 and what she thinks about it.
"Of course I have it! My fans always ask for anal shows, so the Hush 2 is the Lovense toy I use the most," said Amy. "My favorite feature is that it reacts to the tips of my fans. The higher the tip, the stronger the vibrations. This helps create a show my fans and I can really look forward to."
Make Money with the Lovense Hush 2 & your webcam
Lovense has some incredible opportunities for you to monetize your Hush 2 by pleasing yourself – or letting others take control of the toy to please you. Check out our guide for getting connected with Lovense and Chaturbate.
10 Reasons Why I'd Recommend the Lovense Hush 2 Vibrating Anal Plug
Here is a quick summary of the reasons why I think this remote control butt plug is truly worth your money:
It's available in different size options. Start with a smaller size if this is your first time experiencing anal pleasure. You can always purchase a larger size later when you've had a bit of experience playing around with the smaller one.
It comes in body-safe and sensual materials. Seriously, I really loved the toy's comfortable texture and smooth silicone exterior.
I found the vibrations to be pretty strong. Especially, they're strong in comparison with other vibrating anal plugs I own.
You can sync vibrations with your favorite cam shows and video content. This is probably the feature I enjoyed the most. I would buy the Hush just to do this!
You can give complete control of the toy to your long-distance partner. Using app control was pretty straightforward. I'm sure anyone could do it. You just need a compatible mobile phone and a reliable connection to the Internet.
The Lovense Remote app offers a lot of remote control features. For example, video chat with your partner, music control, creating your own vibration modes, and many more.
The vibration is strong enough to hit all my sweet spots. This is pretty self-explanatory, right? Not all toys actually deliver sexual pleasure, but the Hush 2 never misses the spot for me.
I think it's suitable for everyone, from the most inexperienced players to advanced users. The shape of this toy is so simple anyone can get intense pleasure from it.
If you're a cam model, it will help you attract more fans. The toy reacts to tips from your fans to help you create engaging shows. The higher the tip, the higher the vibration strength of the anal plug. No more boring time in your cam room!
Its flared-base design stays firmly in place. No matter how much you move around, you won't have to worry about your Lovense Hush 2 falling off or getting stuck in your anus.
Compared to other butt plugs on the market, the Lovense Hush 2 is closer to 5-6x the volume.
The Lovense Hush 2 is not just larger in volume, its insertable length is 1.3x longer too.
Hope you liked my review! If you're looking for an anal plug vibrator with a smooth design, a powerful motor, and amazing connectivity features, check out this model from Lovense. I'm sure you'll love it!
The Lovense Hush 2 is truly a game-changer in the world of adult toys.
Getting started With Your Lovense Hush 2
Powerful, snug, and silent vibrating toy Hush by Lovense. A user handbook, fast setup instructions, a USB charging cable, and Hush are all included in the box.
Charging the Hush 2
Push the pin into the charging port until the red indicator light goes on to charge Hush using the USB charging cord that is included. It takes 1.5 hours to fully recharge.
Activating and Controlling Your Hush 2
Press and hold the button for three seconds to activate Hush after which the red indicator light will start to flash. Pressing the button will switch between the low vibration, medium vibration, high vibration, pulse, wave, fireworks, and earthquake vibration modes.
Cleaning your Hush 2 anal butt plug
Before and after each use, Hush should be carefully washed with warm water and mild soap (or sex toy cleanser) and dried before being stored.
Using Lube With Your Hush 2
The use of water-based lubricant is crucial, and it should be applied to your body and Hush before anal play. Read our guide on the best lubes to use for sex toys.
To get the best connection range, the curved end of the base should be towards your back, and the phone should be pointed in the approximate direction of the socket
If you are new to anal play, in order to prevent any problems you should do some research before beginning so you understand what is involved and to help prevent yourself from getting hurt using the Hush 2.
Users should refrain from using Hush right away if they experience discomfort during insertion or use. The manufacturer and store are not liable for any problems that may result from using Hush.
Avoid exposing Hush to severe heat or cold and avoid using silicone or oil-based lubrication since they might damage the silicone case.
Don't use it while it is charging, and be sure to recharge it at least once every six months. Turn Hush on, wait for the red light to begin blinking, download the Lovense Remote app, create an account, and then follow the on-screen directions to connect Hush to your phone.
Turn Hush on and wait for the red light to begin blinking before plugging in the Lovense USB Bluetooth Adapter, downloading the Lovense Remote software, logging in, and then connecting Hush as directed.
Hush 2 and the Lovense Remote App
The Lovense Hush 2 is an interactive vibrating app-controlled butt plug, offering a range of customizable settings
Open the Lovense Remote app, choose the "Long Distance" icon, select "+," enter your partner's login, and then select "Done" to link Hush with them. By pressing "+" once your partner accepts the request, you may access long-distance play options and enter a private chatroom. Check out our guide if you need extra help getting your Lovense sex toy setup for long distance play.
I hope you found my Lovense Hush 2 review helpful! Please let me know in the comments below if you have bought one for yourself and what you thought of it. If you have any questions just comment below and I'll help answer any questions you have.
Other Lovense Products:
More Hush Sex Toy Reviews
Don't just take our word for it, below are verified purchasers of the Lovense Hush 2