Balancing the challenges of a long-distance relationship can sometimes feel like walking a tightrope. But who said that it can't be fun? – Our top long distance relationship memes are a great way to keep the fun going.
TL;DR – Below is a quick view of the top sex gifts for long distance relationships. Continue below this list for more information and details.
With today's high-tech toys and some creativity, you can transform those miles into a playground of intimacy.
Picture this: teasing your partner from a thousand miles away with the tap of an app or unwrapping a sexy surprise that reminds them of you.
Intrigued? Let's dive into the world of sex toys for long-distance relationships. Buckle up for a journey of discovery, intimacy, and a whole lot of fun.
Sex Gifts in a Long Distance Relationship
Sex gifts are immensely helpful in long-distance relationships, where physical touch is off the cards – especially when you've been together for a long time. They connect couples across continents and time zones, providing more than what video calls alone can offer.
Think about it as a secret language between you and your partner, one that helps maintain and enhance intimacy in unique, electric ways.
For long-distance lovers, sex gifts don't just end at adding spice to the mix. There's a wealth of psychological benefits that tag along.
They breathe life into the virtual world, enhancing closeness and reducing feelings of loneliness between couples.
So if you and your partner are feeling adventurous, check out these sex gifts for long distance couples.
---
Lovense Max 2 and Lovense Nora
Long Distance Remote Sex Toys
During those long periods when my partner was often traveling overseas for work, I was looking for a way for us to be more connected intimately with each other. I discovered the Max 2 & Nora by Lovense and instantly fell in love with the idea. I had to buy them as a gift so that we could try them out.
These ingenious sex toys, bridged by Bluetooth and the Lovense app, brought a much-needed sense of connection and intimacy in our lives.
The design of these sex toys uses haptic feedback (vibrations and movements) to communicate and interact with each other.
The intensity of the interactions is magically linked — as the Max 2's strokes increase in speed, Nora, the rabbit-style vibrator rotates faster. Likewise, any rapid movements with Nora triggers the Max 2 to expand and contract more quickly.
The Max 2 & Nora provide a shared sexual experience. It doesn't feel like you're merely using these toys individually (although you can also use them independently too). Instead, it feels more like we're using them on each other, bridging the physical gap between us.
We like to have steamy Zoom sex sessions and we can watch each other in realtime as our toys are synced.
The Lovense Remote app adds another layer of versatility. It allows one partner to seize control of the excitement, while the other simply surrenders to the experience. Control or be controlled.
A perfect solution for those moments when only one of us is in the mood to actively participate in the fun!
Onyx+ And Pearl 3 By Kiiroo
Remote Controlled Long Distance Sex Toy Gift
Kiiroo's Pearl 2 stands out as an exceptional vibrator, specifically targeting G-spot stimulation. Sporting an easy-to-handle 7.5-inch length and a range of nine adjustable vibration speeds, it's designed to cater to the desires of many women.
While I found the Pearl to be an excellent remote vibrator, I found myself more by the Lovense Nora due to it's rotating stimulation.
One of my partners go-to favorites is the Onyx+. A male masturbator by design, the Onyx+ from Kiiroo offers unique features, making it hard not to draw comparisons to Lovense's Max 2.
The Onyx+ features ten internal rings, replicating a natural suction sensation.
It comes with dual air channels, which, according to my partner, authentically simulate the sensations of penetration or oral sex, depending on the settings used!
What makes it even more thrilling? It can be synchronized with adult films, enabling you to partake in scenes for a more engaging and dynamic experience.
This makes it an ideal gift for couples who appreciate a dash of visual pleasure to add some excitement to their intimate moments.
But what really distinguishes the Onyx+ is its extraordinary responsiveness – it's so instantaneous that it feels as though your partner is right there with you in that moment.
We-Vibe Sync 2
Couples Vibrator & App Controlled Remote Sex Toy
The We-Vibe Sync 2 couples vibrator can really step up the game for you and your partner. Designed with two stimulation points, this remote controlled vibrator targets both clitoral and G-spot areas, getting things heated up quickly.
The Sync is adjustable, making it a comfortable fit for various body types. With 10 different vibration modes, it caters to all your desires and would make for the perfect gift to spice up those lonely long-distance evenings where you just want to feel more connected to one another.
The highlight of the We-Vibe Sync 2 is the We-Connect app. This nifty app opens up new avenues of play with more vibration modes and the ability to create custom patterns, a feature you will find both fun and exciting.
What makes it a great long-distance sex gift is the ability to control the sex toy remotely, even from thousands of miles away, keeping your intimate connection alive despite the distance.
I don't know who came up with it first, but both Lovense sex toys and the We-Vibe sync have a fun feature that is great for those who like to get down and dirty along to music.
We-Vibe's Beat Mode setting syncs the vibrations to the beat of any chosen song. Synchronize your steamy sexual pleasure with your favorite playlist.
For couples who love a bit of visual interaction, Sync also supports video chat, allowing you to see your partner's reactions in real-time.
The We-Vibe Sync 2 makes for a great gift for long-distance couples. It's versatile, tech-forward, and has a fun, interactive side to it that keeps things interesting.
Long Distance Pleasure with the We-Vibe Verge
App-Controlled Vibrating Cock Ring for Men
Similar to its vibrator counterpart, the We-Vibe Verge vibrating ring adds an interesting twist to the long-distance intimacy toolbox, making it a top contender for your long-distance gift list.
Enabled with remote control capabilities through the We-Connect app, the vibrating cock ring gives you the power to control the tempo and intensity from anywhere in the world, ensuring your partner's satisfaction remains a priority.
The We-Vibe Verge isn't just any vibrating ring. With the ability to sync the ring with a vibrator, you can both achieve a mutually beneficial sexual rhythm, bridging the distance gap as you cum together.
Create an engaging experience that transcends physical limitations, and enhance the quality of your sexual intimacy, no matter how far apart you may be.
The We-Vibe Verge remote controlled cock ring is a sex gift that delivers both physical gratification and provides a sense of togetherness, making it an excellent addition to the long-distance relationship arsenal.
Lovense Lush 3
Remote Controlled Egg Vibrator for Long-Distance Sex
One of our favorites is the Lush 3 by Lovense. It's like the superhero of long-distance vibrators. It's not just an upgrade from the original Lush, it's a whole new level of pleasure.
Compared to its predecessor, the Lush 3 packs a much stronger punch. The vibrations are more intense, leading to climaxes that are nothing short of earth-shattering.
It's designed to hit all the right spots, with a shape that's contoured to stimulate both your G-spot and clitoris. And it's made from smooth silicone, making it comfortable and easy to use.
One of the standout features of the Lush 3 is its battery life. It can last up to four hours without needing a recharge. That's four hours of uninterrupted pleasure, making it one of the most enduring vibrators on the market.
To use the Lush 3, all you need is to connect it to the Lovense app via Bluetooth. This allows your partner to control the intensity of the vibrations from wherever they are. It's like they're right there with you, sharing in your pleasure, even when they're far away.
So, if you're looking to add some excitement to your long-distance love life, or connect with other Lovense users, the Lush 3 could be just what you need. It's a way to stay connected, to share intimate moments, and to keep the spark alive, no matter the distance.
The Lush 3 is one of the most popular cam model sex toys made famous as the pink egg vibrator with an antenna.
Lovense Hush 2
Long Distance Butt Plug Gift For Anal Lovers
Butt plugs also make a significant splash in the long-distance sexual scene, bringing a tantalizing, intimate dimension to your remote romance.
The Lovense Hush 2 is one of the best long-distance butt plugs on the market.
The cheeky anal sex toy syncs up to your phones, making it possible to deliver waves of anal pleasure across great distances with the swipe of a finger.
With a variety of customizable pulsation patterns and strength levels, app-controlled butt plugs like the Hush 2 by Lovense are perfect for spicing up your long-distance love story. Best of all, it comes in a variety of size options so you can pick what you're comfortable with.
Compared to its precursor, the Hush 2 delivers more powerful vibrations that result in delightfully intense anal sensations.
The design of the Hush 2 has been crafted for comfort, thanks to its silky-smooth silicone build.
One of the standout features of the Hush 2 is its impressive battery longevity. It can continue to deliver pleasure for up to three hours without needing a recharge. So you can continue to tease and play with your partner before, during, and after your long-distance hookup sessions.
To harness the full power of the Hush 2, ensure your device's Bluetooth is enabled for it to pair seamlessly with the Lovense app. Connecting you and your partner no matter the distance. Get the Hush 2 as a sex gift for your partner today.
Lovense Edge 2
Long-Distance Prostate Massager Sex Toy
When it comes to long distance sex gifts, the Lovense Edge 2 Prostate Massager stands out as a great sex gift for your male partner that enjoys prostate play.
This dual-motor, fully customizable prostate massager is the next best thing to being physically together. You'll love how it's designed to meet the unique needs of every man, making it a perfect choice for those seeking to break up the routine in their long-distance relationships.
Taking control of your partners pleasure from anywhere in the world with the Lovense Remote app. It adds a thrilling new dimension to your intimate moments.
Designed for comfort and discretion, the Edge 2 is perfect for those secret moments of pleasure, whether you're at home or on the go. Its whisper-quiet operation ensures your secret stays safe, even in the most public of places.
So why wait? Dive into the world of long-distance intimacy and gift your partner the Lovense Edge 2 Prostate Massager.
VR Headsets
For Virtual Long Distance Sex
My partner and I tried the amazing world of virtual sex games and oh what an amazing experience that was.
VR Headsets, interactive virtual sex games, Lovense sex toys synced together.
Yes that's right. Through the power of technology, you can meet your partner in a virtual sex game such as 3DX Chat, a Lovense compatible game. Wearing your VR headset for a more immersive experience, you are able to create custom avatars to either replicate yourself, or try your own fun and sexy characters. Both of you can meet in the game and have sex with each other.
Because there are many games that work with Lovense toys, you can also sync your sex toys to each other, AND they react to the motions from the gaming experience.
This would be the ultimate gift for the tech lovers and gamers who are trying to connect together over long distances.
The setup sounds complex, but it is actually fairly easy. You can also check out our recommendations of the best VR headsets for porn which will also be perfect for this.
Lingerie and Intimate Underwear
A Sexy Gift to Spice Up Your LDR Date Nights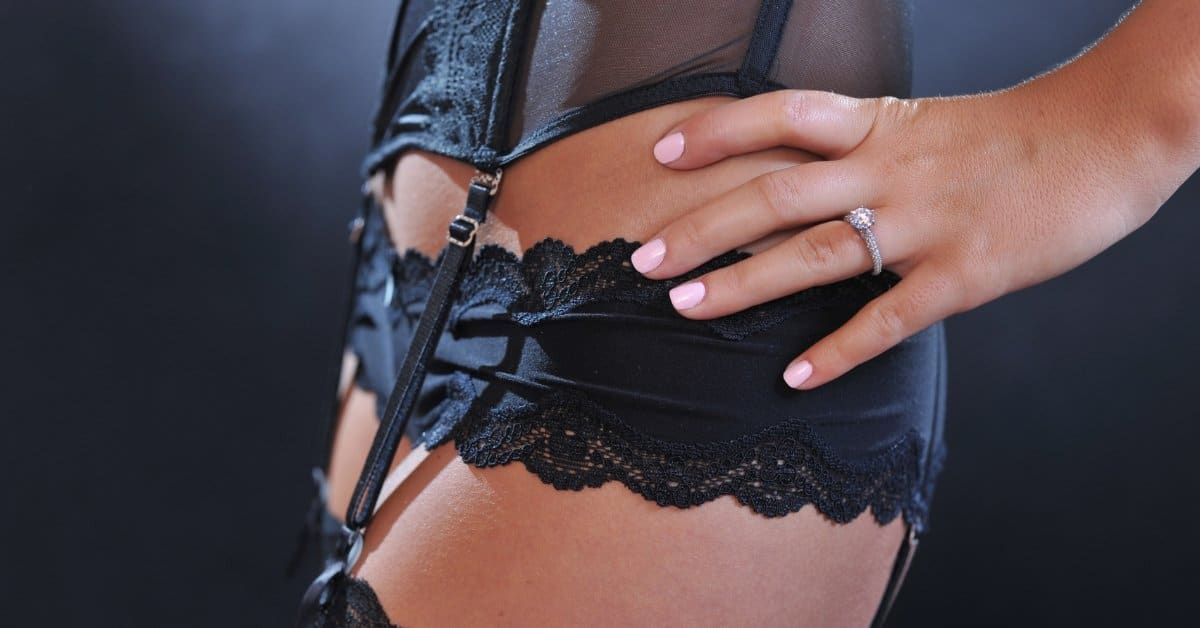 Imagine the thrill of surprising your partner with a gift that's not just intimate, but also a testament to your affection and desire. That's exactly what these long distance sex gifts – sexy lingerie and intimate apparel – can do.
I think you'll love the idea of selecting items that not only cater to your partner's taste and preferences but also serve as a sexy expression of your longing.
Now, let's break up the routine. Picture a special virtual date night where you both dress up in your new attire.
The anticipation, the reveal, the mutual admiration – it's the next best thing to being together in person. This isn't just about the clothes; it's about creating an intimate and romantic atmosphere that transcends the physical distance between you.
So, are you ready to spice things up? Pair some sexy lingerie with some of the other sex gifts on the list for an extra special video call with your loved one.
The Kit by Maude
Spice Up Your Next Visit with Our Favorite Travel Sex Gift
This travel sex gift is perfect to help you make the most of these precious moments.
Designed to add a touch of excitement and convenience to your travels, the Travel Sex Kit by Maude includes a travel-sized, all-natural lubricant that's just 2 ounces – perfect for carry-on luggage.
We also appreciate the inclusion of 5 ultra-thin lubricated condoms in easy-open packaging. Safety and convenience? Yes, please!
But that's not all. The kit also comes with 10 compressed, compostable wipes that can be reused up to twice. It's the perfect blend of practicality and eco-friendliness.
And the best part? It's all carry-on luggage friendly! No need to worry about airport security ruining your surprise.
Break up the routine and add a touch of excitement to your next visit with the Travel Sex Kit by Maude.
Clone-A-Willy and Clone-A-Pussy
LDR sex gifts
These kits are not just novelties, they're a way to go the distance in a fun and intimate way. They're super easy to use and the level of detail they capture is mind-blowing.
This is the perfect sex gift for long distance couples. I've tried this and we had so much fun making them together over video. Initially, I was tempted to just make a clone of myself and send it to my partner as a cheeky surprise.
Instead, I decided to sent him the clone a willy and wait for it to arrive. We could then both clone ourselves over video – and it was so much fun. We laughed and really connected that evening.
Best of all, the replicas were incredible, and we then proceeded to send them to each other and planned another more sexy session where we could try them out together too.
If you get this sex gift, I highly suggest you follow what we did too as you're in for a great time.
The Clone-A-Willy isn't just a visual replica, it's fully functional. It even comes with a bullet vibrator for that extra bit of fun. You can choose from lifelike skin tones or go for something a bit more whimsical with colors like green or purple. And for those of us who like a bit of glow in our lives, they've got options that glow in the dark too!
Previously, the Clone-A-Pussy was more of a visual treat. But they've upped their game. Now, it comes with a functioning pleasure sleeve, making it a fully immersive experience.
So, whether you're looking to spice things up, or just want a more personal memento of your partner, these kits could be the perfect gift. They're a fun, intimate way to stay connected, no matter the distance.
Oh! Talk Dirty Card Game by Lovehoney
LDR dirty card game sex gift
I'm always on the lookout for new ways to keep the spark alive, especially when it comes to gifts and sexy surprises to enhance our intimate moments. That's when I stumbled upon Lovehoney's Oh! Talk Dirty Card Game. Trust me, it's a game-changer.
This isn't your average deck of cards. It's a treasure trove of 52 cards, each with its own unique "value", plus two joker cards that you can customize to your heart's content. It's like having a secret language with your partner, one that's both fun and tantalizing.
What I love about this set is that it's not just one game, it's multiple games in one. It comes with three different game suggestions, each one designed to bring you and your partner closer in a playful, intimate way. But don't let that limit you. Feel free to get creative and invent your own game, or even use them for a spicy game of poker.
Whether you're still exploring each other's desires or looking for a fun way to mix things up, this card game is the perfect sex gift to help you connect on a whole new level. It's not just about the physical connection, it's about communication, laughter, and shared experiences. And in a long-distance relationship, those are the moments that truly count.
Massage Oils And Candles
Sexy Care Package For A Night Of Relaxation
One of the most romantic gestures is sending a sensual care package. It's more than just a gift, it's a way to share intimate moments and express your love, even when you're miles apart.
Send your partner a collection of sensual massage oils and candles. There is nothing like receiving a thoughtful gift care package including a selection of massage oils and candles, all chosen with your favorite scents in mind. It's like sending a personal invitation to a night of relaxation and sensuality.
But don't just stop at sending the package. Encourage your partner to set aside some time for a self-care session. Better yet, why not turn it into a shared experience? Offer to guide them through a virtual massage over a video call. It's a way to be there with them, to share in their relaxation, even when you can't physically be there.
With the addition of some remote controlled sex toys like the Lovense Max 2 and Lovense Nora, you can end the experience by getting intimate and having a virtual sex session.
Sending a sensual care package is more than just a gift. It's a way to create intimate experiences, to express your love and affection, and to make your partner feel special, even when you're apart.
It's one of the many ways we can keep the spark alive in a long-distance relationship to form a deeper connection.
14: Sex Vouchers and Sex Coupons
Sex Vouchers and Sex Coupons
Vouchers for Sex Gifts
I'm a big fan of sex vouchers. They're like little promises of pleasure, waiting to be redeemed. Your sex gift card.
If you're like me and DIY isn't your strong suit, don't worry. You can buy these vouchers, ready to be printed and gifted. They're perfect for couples looking to add a little extra spice to their next romantic rendezvous. You can make your own if you have that creative spark that I don't have. Gift ideas like this are perfect for a personal touch.
The beauty of these vouchers is that you can make them as fancy or as simple as you like. You're in charge of the printing, so you can go all out with high-quality paper, or keep things simple and straightforward. The set includes 8 blank cards for your own creative ideas, and 21 pre-made vouchers for things like "A quickie," "A sexual act of your choice," and "A sexy striptease."
Long-distance relationships can be tough, especially when you haven't seen each other for a while. It can feel a bit awkward trying to rekindle that physical connection. But these sex vouchers can help set the mood, breaking the ice and paving the way for a night of fun and intimacy.
So, if you're looking for a way to keep the spark alive in your long-distance relationship, these sex vouchers could be just the ticket. They're a fun, playful way to express your desires and share intimate moments, no matter the distance.
Ultimate List of Sex Toys Perfect For Long Distance Couples Gifts
1. Panty-Vibes: An excellent choice for thrill-seekers who find pleasure in clitoral arousal during public ventures.
We-Vibe Moxie
Lovense Ferri
Satisfyer Sexy Secret
BlueMotion NEX 1 (OhMiBod-Only)
Lightshow (OhMiBod-Only: One of the initial app-based toys, newer models like NEX 1 or Esca 2 may be a better choice)
2. Internal Eggs & Kegel Balls: Perfect for those who take delight in subtle internal sensations while out and about.
Ohmibod Esca 2
Lovense Lush 3
We-Vibe Jive
We-Vibe Bloom
Lovelife Krush (OhMiBod-Only: Its kegel-ball appearance belies its vibrant capabilities)
3. Couples Toys (Dual Stim): These devices not only enhance PIV interactions but also add a daring twist to public escapades.
We-Vibe Chorus (An upgraded version of the older Sync model)
Satisfyer Double Joy (An exciting dual-use Couple's Vibrator)
BlueMotion NEX 3 (OhMiBod-Only: Couple's enhancing cock ring)
4. Rabbit Vibrators:
We-Vibe Nova 2
Lovense Nora
Satisfyer Mono Flex
OhMiBod Fuse (OhMiBod/KIIROO: A dual stimulator that promises intense pleasure)
5. G-spot Vibrators:
We-Vibe Rave
Lovense Osci 2
KIIROO Pearl 2 (This G-spot vibe delivers intense stimulation)
6. Air-Pressure Toys:
We-Vibe Melt
Satisfyer Dual Pleasure (Insertable handle feature for varied pleasure)
Satisfyer Dual Love (Features an insertable handle for additional stimulation)
Satisfyer Love Breeze (Compact and ideal for those seeking unique sensations)
Satisfyer Love Triangle (Perfectly portable for pleasurable travels)
Satisfyer Curvy Series (Each version provides a unique experience due to different tip openings)
7. Clit Vibes:
We-Vibe Gala
Lovense Ambi
KIIROO Cliona (A miniature powerhouse for clitoral stimulation)
8. Pebble/Lay-on Vibrator:
We-Vibe Wish (Perfect for unobtrusive pleasure)
9. Wands:
We-Vibe Wand (Full-size for deep, resonating vibrations)
Lovense Domi 2 (A compact wand for powerful yet discrete stimulation)
10. Dildos:
Lovense Gravity (Remote controlled vibrating & thrusting dildo)
11. Anal Toys: Designed for those who find excitement in public anal stimulation.
We-Vibe Ditto
Lovense Hush
OhMiBod Lumen (OhMiBod/KIIROO: This butt plug takes anal pleasure to new levels)
12. Prostate Toys:
We-Vibe Vector
Lovense Edge (Designed to deliver intense and targeted prostate stimulation)
13. Strokers:
Lovense Max 2
KIIROO KEON (Automated for a hands-free, thrilling experience)
KIIROO Titan (Offers vibrating sensations for an elevated experience)
KIIROO Onyx