If you are like most people when you saw the amazing potential for virtual reality (VR) headsets, you almost instantly thought to yourself "Yeah that's great and all, but what about for watching porn? Where is my VR porn experience?"
That question has sparked a plethora of VR headsets and a spike in innovation around this space. You are definitely in for a treat as these VR headsets are some of the best on the market for porn.
Things to Consider
What VR headset you buy will come down to how invested you really are into the idea of VR porn.

Logically, if you just want to experience it and see what it is like, then go for something less expensive.

If you are looking for a high quality premium experience where it really feels like you are in the same room as the performers, then you'll want to invest in a better setup – and likely a premium VR subscription.
Types of VR Headsets
Tethered VR Headsets
Standalone VR Headsets
Smartphone VR Headsets
Tethered VR headsets (high-end VR headsets, PC VR, desktop VR)
Tethered VR headsets have a wire which is typically HDMI or USB (or both) that connect your headset to a computer.
While that means they aren't wireless, generally these headsets are far superior in terms of quality and immersive experience. If you are looking for a premium virtual porn viewing experience then these are the way to go.
Standalone VR headsets (all-in-one HMDs)
Standalone virtual reality headsets are the middle ground between complete high quality and entry level headsets.
As the name suggests, they don't require plugs and operate on their own. Everything is built into the headset from the processors, display, and sensors, to the battery and storage.
Personally I find these great because they are much more portable than tethered headsets. If you are willing to compromise on slightly reduced quality these are perfect for using in the bedroom if you like a bit of evening entertainment before you go to sleep.
They are also a more affordable option as well.
Smartphone VR headsets and handheld VR viewers
These VR headsets use your smartphone to create the VR experience.
Sliding your smartphone into the headset which is essentially a VR shell with lenses that help to give more depth when looking at the screen.
These are perfect for entry-level headsets and give you a good introduction to the world of VR without getting yourself too invested. Many have discontinued making these but you can pick up a great deal on places like Amazon. If you don't want to spend too much money on a headset and just want to use it casually this is a good option.
Just keep in mind that you'll likely want to upgrade to a standalone or tethered headset in the near future.
Below we have listed the top VR headsets in each category based on how good they would be for watching porn.
---
This is a VR headset with enthusiasts in mind, ideal for a high end immersive virtual reality experience that will blow your mind, and with some additional toys you can have an extraordinary experience that will blow something else… The Reverb G2 hits all the right spots.
Awesome
The HP Reverb G2 virtual reality headset provides premium quality immersive experiences that will please anyone who uses it. I highly recommend checking out this if you are looking for something very high quality. It is great for those who have tried VR in the past and are looking to upgrade to a better standard.
Positive
Stunning visuals with a whopping 2160 x 2160 LCD screen, coming to a 4320 x 2360 total resolution.
Smooth and realistic with a 90Hz refresh rate.
Setup and connection is super easy, with most of it automated.
Negatives
Not totally wireless, although it is worth it for the quality.
Resolution is one of the defining highlights of this headset. A clear VR image requires high resolution displays in each eye. Being right up against the screen means that density of pixels really matters for a clear uninterrupted experience.
Next-level immersion. Hyper-realistic VR.

Developed in collaboration with Valve and Microsoft, our breakthrough VR headset delivers a more immersive, comfortable, and compatible experience.
With each eye of the Reverb G2 VR headset having a whopping 2160 x 2160 LCD screen, totaling 4320 x 2360 total resolution. Having a 90Hz refresh rate also helps to keep things smooth for a more realistic experience. These two features combined help make all the difference, and if you are wanting realism, then you should look no further.
the two motion controllers are connected via Bluetooth. And while we won't go too far into their functionality because… well, you'll likely be hands-free for most of your time using the headset.
Due to the focus on such a premium visual experience, it isn't completely wireless and requires a direct connection to your PC. For most of you out there, I'm sure this isn't going to be a problem.
The setup and configuration is a breeze, they even have adjusters under the headset that allow you to change the spacing on the lenses to fit your face better.
Once connected to your PC it is all mostly automated with setup. It will be in your best interest to have a somewhat good quality PC in order to handle the performance requirements, but most modern PC's should keep up pretty well.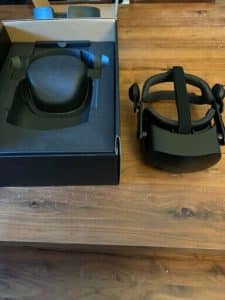 Ultimately the pixel resolution is what makes this a top contender as the best VR headsets for porn. The unit itself is super comfortable, easy to put on and take off, and isn't too heavy to wear for extended periods of time. I also wear glasses so this is a concern for me, but I didn't even notice when putting it on because there was plenty of room for them inside.
Although you may be concerned about requiring to plug in to your computer, the headset comes with a 20 foot long cable giving you plenty of room to move around.
Not only is this a solid gaming VR headset, it is one to seriously consider if you are wanting a complete immersive porn viewing experience, then this is ideal for you.
For those who have tried VR porn in the past and are looking to go deeper in, then I would also suggest that if you get this headset, now would also be a good time to upgrade to a more premium quality VR porn service to get the best experience.
If you're looking for a cutting-edge virtual reality porn watching experience, the Kiiroo Virtual Reality headset is the perfect solution. This headset leverages revolutionary technology to turn your smartphone into a VR viewer, allowing you to explore immersive and exciting virtual porn, and sync with your favorite sex toys such as the Kiiroo Keon.
The high-quality ABS construction and 42mm diameter spherical resin lens material minimize distortion and provide a wider field of view.
The Kiiroo VR headset is designed with myopia sufferers in mind, allowing users to enjoy 3D movies and games without the need for glasses. This headset is compatible with a wide range of smartphones, including iPhone, Android, and Windows phones with screen sizes ranging from 3.5 to 6.0 inches.
So, whether you're a Samsung Galaxy, iPhone, LG, SONY, HTC, or ASUS user, the Kiiroo Virtual Reality headset is the perfect choice for an unparalleled virtual reality experience.
Perfect For VR Porn
The Kiiroo VR headset is designed for those who are willing to invest in a premium VR experience. The Kiiroo VR headset is a high-end virtual reality headset designed to provide an immersive and interactive virtual reality experience. The headset features high-quality optics, adjustable straps, and padding for comfort during extended use. It is compatible with a range of devices and comes with interactive features such as hand controllers and haptic feedback.
Positive
The Kiiroo VR headset offers a highly immersive virtual reality experience, allowing users to fully immerse themselves in virtual environments and games.
The headset is designed to work with a wide range of devices, including smartphones, gaming consoles, and PCs, making it highly versatile.
VR adult content sites are optimized for this headset
The headset features high-quality lenses that offer a clear and crisp image, allowing users to enjoy a truly immersive visual experience.
The Kiiroo VR headset comes with a range of interactive features, including hand controllers and haptic feedback, that allow users to interact with virtual environments in more natural and intuitive ways.
Negatives
You'll want to buy many more of their products… Which isn't really a negative because they are all pretty amazing.
The Meta Quest 2 (previously known as the Oculus Quest 2) is the best Virtual Reality porn headset for a few main reasons:
Completely wireless and requires no connection to a computer. You can take this wherever you go is amazing.
Great
The Meta Quest 2 VR headset was designed for these activities. Fully wireless and everything built into the headset. This makes for the perfect option for a high quality wireless VR headset for watching porn.
Positive
Amazing quality for a low price
High resolution 1832 x 1920 per eye
VR adult content sites are optimized for this headset
Completely wireless and handsfree – leaving them available for other activities
Negatives
Not as high quality as a dedicated tethered VR headset – but it will be suitable for most peoples needs.
Android only
Not just for watching porn, but an added bonus is that most VR porn videos and adult content websites are optimized for it.
Next-level hardware that's easy to set up and safe to use.

Hundreds of hit games, one-of-a-kind experiences and a growing community awaits you on Meta Quest 2 – Plus it is perfect for your adult viewing experiences.
Battery life does not last super long. It can last up to about 3 to 3.5 hours with high use, and charges with a USB Type-C charger. But that is typically more than enough for what you're intending on using it for right?
They do have a battery pack to put on the back of the headset so it can last longer which is great. But that comes at an additional cost.
Charging time isn't too bad, and it supports the USB type-C charger.
The Quest 2 has a screen resolution of 1832 x 1920 per eye, which is an improvement over the original Oculus Quest 1 which has a video resolution of 1440 x 1600 per eye.
It also has an upgraded 90 Hz refresh rate and field of view of 95 degrees.
The Meta Quest 2 also runs on the Android operating system. If you have an iPhone, then it probably doesn't make sense to buy this as you'll need another phone.
This makes things easy if you want to view through other media streaming applications such as Plex, Kodi, or other porn apps on your virtual reality device. These media apps also offer flat screen porn so you can enjoy the best of both.
Perfect for android users who just want to get into the world of VR porn and not complicate things too much. It has been around for a while, so you could pick one up pretty cheap. New to buy, they are going for a pretty affordable price anyway.
Excellent Budget Friendly VR
The Samsung Gear VR headset is an older model virtual reality headset that is perfect as an affordable option to jump into your first VR experience. Although if you are wanting quality, other types are better.
Positive
Quick and easy setup
Good quality for newcomers to VR
Comfortable even when wearing glasses under them. 
Easy to navigate options with the trackpad.
Negatives
Not as high quality as a dedicated tethered VR headset.
Android only
If you already own an Samsung phone from Android, it makes perfect sense for you to buy one of their VR headsets. This is the best option for the lowest price.
Entry-level hardware that's easy to set up and safe to use.

The Samsung Gear VR headset is a great option to get you into the world of VR at an affordable rate. Connect your smartphone and start watching VR porn today.
The Gear VR supports Samsung's Galaxy S6, S6 Edge, S6 Edge+, or Note 5. Since it is made to fit four device types, it can take a few tries to work it out. But it isn't really that difficult after a few goes.
If you're completely new, make sure you are sitting down for your first experience as you can get a little dizzy.
While technically discontinued, if you can find one they are still a great option. The quality isn't as great as some of the more expensive rigs, but don't discount it as a great lightweight option to get started.
However, as an alternative option, the new Meta Quest 2 is highly worthwhile to take a look at as an upgrade to your wonderful immersive entertainment.
Final Thoughts
For those who have tried VR porn in the past and are looking to go deeper in, then I would also suggest that if you get this headset, now would also be a good time to upgrade to a more premium quality VR porn service to get the best experience.
Trust me, you won't regret it. Watching lower quality streams on an advanced VR means that you can see all of the flaws, and you'll just be seeking out a more high definition, and more interactive experience. Unfortunately the free porn sites only give you a taste of what is out there. You'll end up with lower video quality and a limited field of vision.
There are adult entertainment sites dedicated to VR and you have a huge range of options based on your own personal preference and erotic experience you would like. From interactive experiences that sync with sex toys to ASMR and many more options. As you know, the adult industry is very innovative and creative so you'll be sure to find something to satisfy your needs.
Other Related Products You Might Like