I am so excited to try the new Honey Play Box Joi Pro – Remote Control Rotating Head G-spot Vibrator & Clit Licker
Honey Joi Pro Review
This unique and innovative vibrator is packed with pleasure, thanks to Honey's exclusive remote control feature.
The red lip and flirty tongue design is truly irresistible, and it never fails to bring me to the brink of orgasm, and release in intensive contracting orgasms. This compact and convenient vibrator is perfect for exploring my sexual fantasies and experiencing mind-blowing pleasure
Joi Pro is Remote Controllable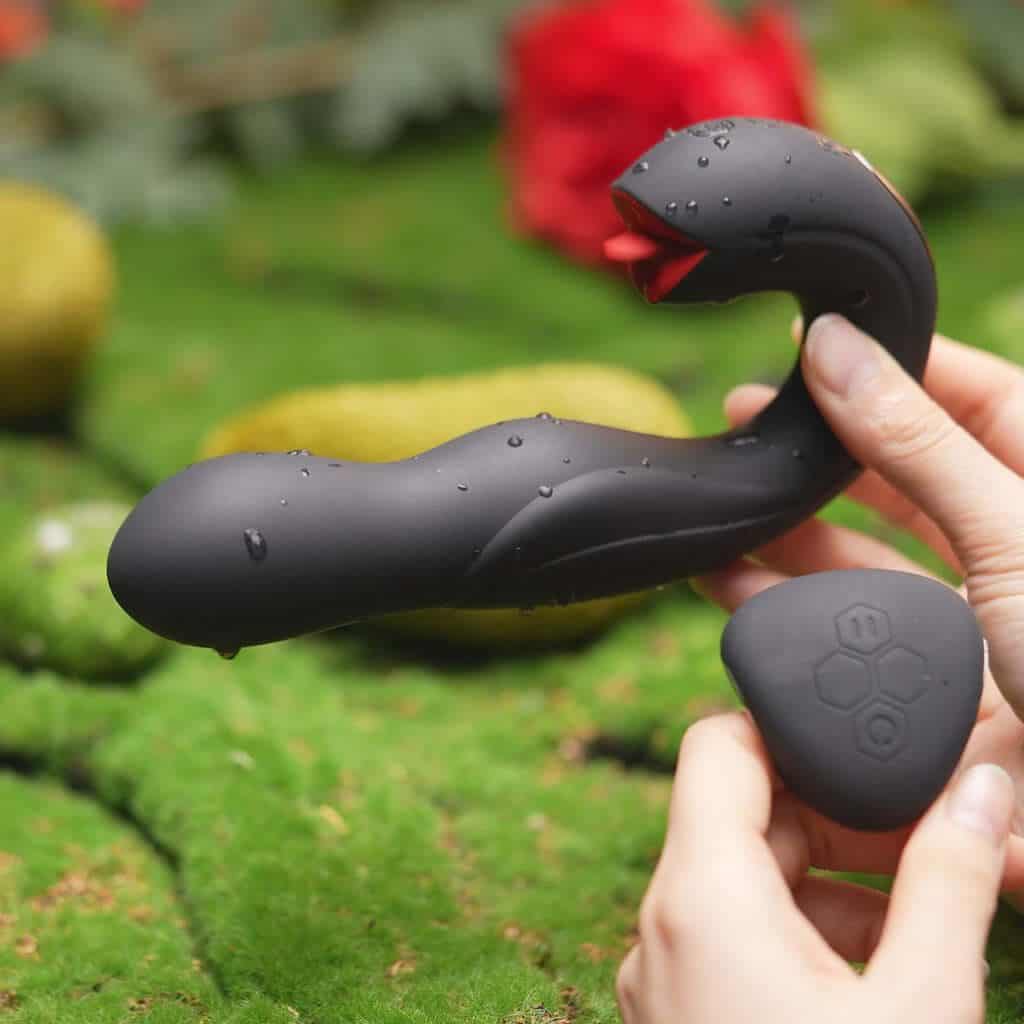 The honeybee-inspired design is not only stylish but also intuitive and easy to use. With 7 clit licking modes and 7 rotation & vibration modes, you can personalize your pleasure to reach orgasm like never before.
The body-safe silicone material used for this vibrator is not only safe but also adds to the overall pleasure experience. And, with its waterproof design, you can enjoy this vibrator anywhere, even in wet environments.
The ergonomic design of the Joi Pro vibrator allows for the perfect length to fit most vulvas and trigger unparalleled pleasure.
Anyone looking for a high-quality, versatile, and satisfying vibrator would be happy with the Honey Play Box Joi Pro.
Joi Pro Clit Licker
The clit licker is amazing paired with the g-spot vibrator. The 360 degree rotating head is designed to target and stimulate your G-spot with amazing precision, delivering 'earth-shattering pleasure', and as a newcomer to the sex toy market, I am very happy with the Joi Pro from Honey Play Box.
Whether you're a seasoned pro or new to the world of pleasure toys, this vibrator is perfect for you. With detailed guides and reviews available, you'll be able to find the right toy and learn how to use it correctly. The options for experimentation and fun are endless with this amazing product. I highly recommend it to anyone looking for a versatile and satisfying vibrator.
Experience anal licking sensations, as well as clit licking pleasure with the Joi Pro
Not only does the Joi Pro allow for clit stimulation with its tongue, you can also use it for anal stimulation. Simply turn the Joi Pro around so that the tongue is directed towards your anus, and insert the g-spot vibrator into your vagina so that the tongue is now touching against your butt while the g-spot stimulator is pleasing you on the inside.
Just be sure to clean thoroughly if you are wanting to reuse it for clitoral stimulation as I don't suggest swapping between the two.
Joi Pro Features & Sizes
The Joi Pro vibrator is made of top-quality ABS and Silicone materials, ensuring both safety and durability. With dimensions of 6.80″3.60″1.48″ for the device and 1.98″*2.06″ for the remote control, it's compact and easy to use. The net weight of 0.48 LB makes it lightweight and portable, making it perfect for on-the-go pleasure.
The noise level of this vibrator is a low ≤ 50 DB, so you can use it discreetly without worrying about any loud noises. The Li-ion rechargeable battery provides a 2 hour charging time and a 1 hour using time, ensuring that you'll never run out of power when you need it the most.
Honey Play Box Joi Pro features 7 vibration modes and 7 rotation modes allow for endless customization of your pleasure experience, and the waterproof design (IPX7) makes it safe to use in the shower or bath.
The perfect combination of safety, pleasure, and versatility, and I highly recommend it to anyone looking for a sex toy that can please you in multiple ways safely and effectively.
How To Use The Joi Pro
Before using, it's recommended to apply the Honey Play Box Lube, or any water-based lubes we recommend for sex toys onto the Joi Pro to enhance your pleasure experience. Once ready, simply insert the long end into your vagina and position the tongue licker on your clitoris or anus.
With just a few simple steps, you'll be ready to experience the magic of the Joi Pro. Turn it on and explore the different settings to find the perfect one for you. As you experiment with the various modes, you'll feel the sensations building and intensifying, leading to an unforgettable orgasm.
So, don't wait any longer, treat yourself to the ultimate pleasure experience with the Joi Pro. Your body will thank you!
More Honey Play Box Product Reviews