Lili – APP-Controlled Egg Vibrator A shining appearance that exudes glamour, flexible string to maximize your enjoyment, and the latest app-controlled technology all comes together in Lili, the loveliest, smartest, and most advanced love egg
I am absolutely in love with Lili, a newcomer to the app-controlled egg vibrator market! The HoneyPlayBox app is a game-changer, allowing me to control the vibrations with just a touch of my finger. I was so excited when it arrived, continue reading below for my Honey Lili review.
Lili Egg Vibrator Features
Featuring a powerful motor, Lili boasts nine sensational pleasure settings, each one more tantalizing than the last. Whether you're in the mood for a slow and steady build-up or a faster, more intense climax, Lili will take you there in no time. Get ready to reach new heights of ecstasy with this app-enabled egg vibrator.
Lili App: Control Your Lili Egg Vibrator With The Interactive Joy Lili App
The simple-to-use remote control provides straightforward access to the vibrator's different modes, while the innovative Lili app opens up a world of opportunities. With long-distance control, the ability to sync to music or other sounds, online chat, and customizable vibrations open up the possibilities for maximum pleasure.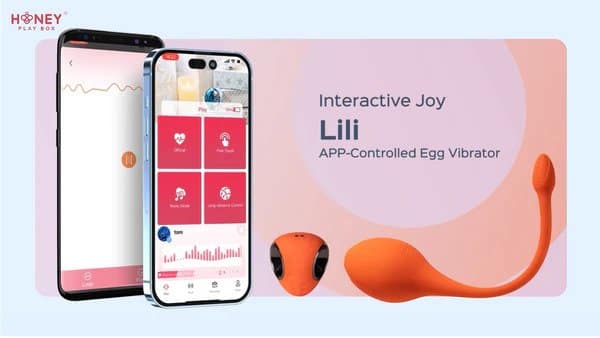 The Lili vibrator is perfect for long-distance relationships and for connecting with others all over the world.
Honey Lili Review – A Powerful Remote Controlled Egg Vibrator
The Lili egg vibrator is a state-of-the-art sex toy from Honey Play Box that offers several unique and advanced features for an unparalleled sexual experience.
This body-safe silicone vibrator is designed in the shape of an egg, with one end being thicker for internal stimulation and the other end smaller with a flexible tail allowing for anal play with additional toys. Find out why we recommend body-safe sex toys.
The Lili vibrator features a powerful motor that offers nine different pleasure settings, allowing users to customize their experience to their liking. This can be further enhanced by using the accompanying app, which provides dynamic patterns and vibrations.
I've used the Lovense app and while this is a great additional feature for the Lili vibrator, there could be some improvements made to give a better user experience. It has loads of potential for a powerful app and I hope that Honey Play Box continues to develop and integrate more of their sex toys into it as they release more products.
Another key feature of the Lili vibrator is its long-distance control capability, allowing for remote or app control by a partner, even if they're located in a different country. The sync to sounds feature lets you enjoy the vibrations in time with your favorite music or playlist, while the online chat function allows for real-time instructions and control.
I'm excited about Honey Play Box, the Lili egg vibrator truly represents the future of sex toys, offering a customized and dynamic sexual experience.
The possibilities are endless with Lili, and I highly recommend it to anyone looking for a high-quality, technologically advanced egg vibrator.
Honey Play Box Lili Packaging is Discreet
With the Lili vibrator, privacy and discretion are top priorities. Honey Play Box delivered my toy in a plain package, ensuring that nobody knew what I was buying. You can rest assured that your intimate moments stay between you and your partner with the Honey Lili sex toy.
More Honey Play Box Sex Toy Reviews: