As artificial intelligence continues to weave its way into the fabric of our daily lives, one area that has seen a surge of interest is the integration of AI in sex and porn.
Latest research from our team provides insights about the various trends happening in this rapidly evolving blend of technology and user behavior.
Search Queries for AI Porn vs VR Porn
Interest for AI Porn Has Exploded in 2023
Google searches for AI Porn have exploded in 2023 with the rise of AI, and rapid improvements to deepfakes and AI porn image generators.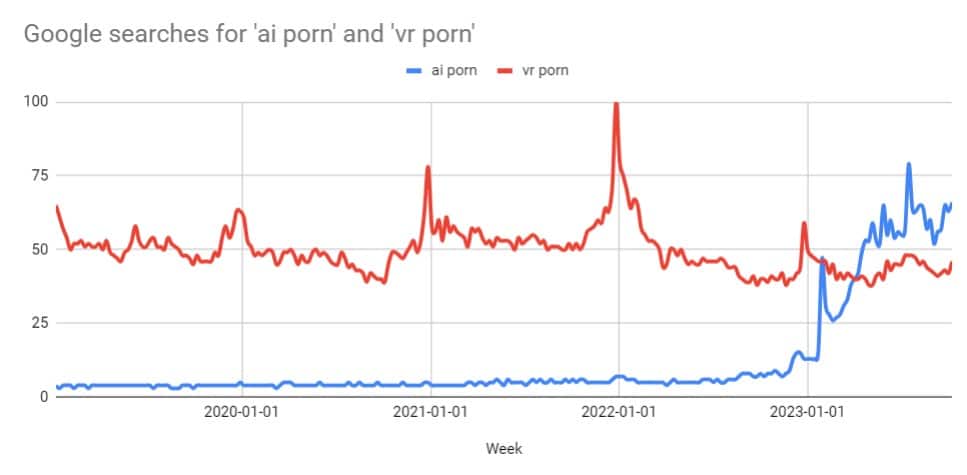 Interest surrounding AI Porn has overtaken search demand for VR Porn, which has been a very popular category for quite some time.
This indicates a new trend and highlights the potential risks surrounding just how easy and accessible such powerful technology is available to 'create' whatever the user wants to see.
Masturbation and Deep Fakes
Would you Masturbate to a Deep Fake?
We surveyed 4,296 participants and found that 76% of porn users have masturbated to a deep fake video.
66.5% of males who watch porn, have masturbated to Deep Fake videos.
[Reference: SexsiToys (Our own survey data]
Watching AI Porn
A Surprising Number of People Would Watch AI Porn
We also asked participants a number of questions relating to AI porn and sex. One of the more surprising finds was the percentage of males who would watch AI porn.
89.3% of males would watch AI generated porn.
[Reference: SexsiToys (Our own survey data]
Celebrity Deepfake Statistics
Most Searched Celebrity Deepfakes
Our research and marketing team dived deep into celebrity deep fakes. The data shows a large portion of people want to see celebrities nude… With or without their consent.
No surprises, the top searches for deep fake celebrities are all females.
Below are the most searched celebrities for Deepfakes. This includes deep fake porn, images, videos and more. We gathered the data using various Google keyword analysis tools which highlight average monthly searches.